Drool-Worthy Destination
Amarillo's diverse cuisine scene is an empty stomach's worst nightmare
By Kyle Whitecotton
For far too long, many travelers have mistakenly regarded Amarillo as little more than a halfway point between North Texas and the Rocky Mountains. Motorists stop for the night, grab a chain restaurant dinner and then head out in the morning with a stale sausage biscuit for breakfast. This was my experience, anyway—until recently. This summer, my wife and I headed to Amarillo, where we met up with some old friends of ours, Andy and his wife, Brooke. Together, they helped Aubrey and me discover Amarillo's unexpected cuisine scene—one that was bursting with distinctive flavor.
575 Pizzeria
When Andy and Brooke suggested pizza and beer for our first night, I was expecting the usual suspects found in most towns. Instead, we arrived at the trendy 575 Pizzeria.
"You're going to love this place," Andy said. "They use only fresh ingredients and the dough is handmade."
The beer menu read like a tour of the country's best craft breweries (New Belgium and Odell, for example) with Texas brews like Community Funnel Cake Ale from Community Beer Co. in Dallas and Lakewood Raspberry Temptress from Lakewood Brewing Company in Garland.
"Wait until you taste their signature sangria," said Brooke, smiling.
"I still can't get past the cider list," Aubrey returned. "Rhubarb cider? Pomegranate cranberry cider?"
Drinks decided, it was onto perusing the list of nearly 40 pizza toppings, including candied almonds and meatballs. Instead of designing our own pizzas, we went for the Mooney—which is heavily topped with ground beef, red onions, pepperoncini peppers and fresh-cut tomatoes with a vibrant red sauce—as well as the Momo, a white-sauce pie topped with parmesan and creamy feta cheese, chicken, eggplant, Kalamata olives and pine nuts that had turned golden brown under the fire that cooked the pizza. The charred edges of each pizza's thin crust called to mind the style of a classic New York pizza. Pair the warm pizza with a cold Texas beer? Gravy.
Ok, so Amarillo has a pizza joint, I thought as we left 575 Pizzeria. But that's not that unusual. This is still Amarillo, and we know it's all steaks and potatoes in the panhandle, right?
Wrong.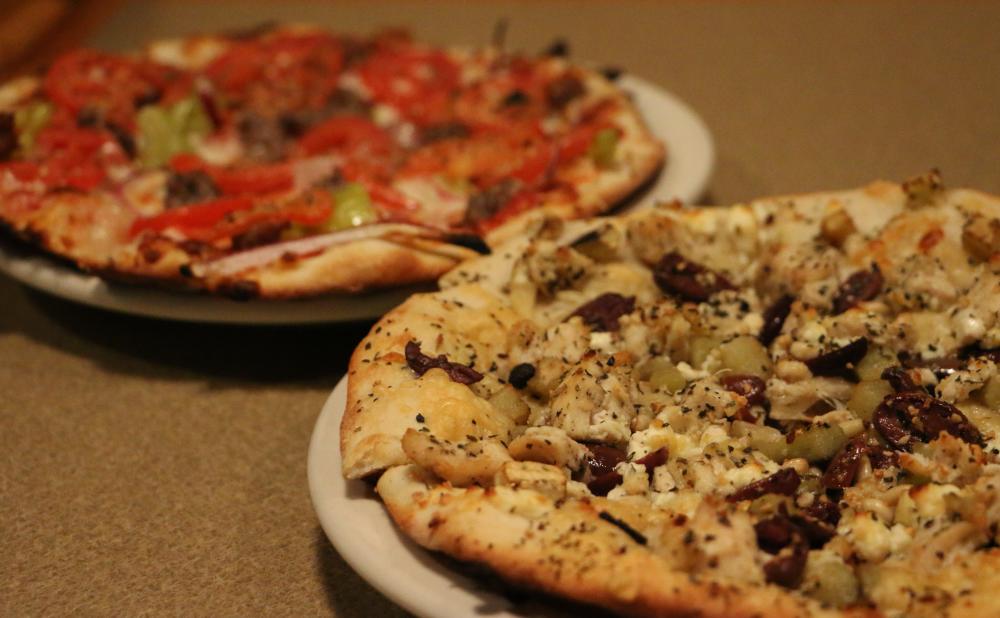 (The Momo)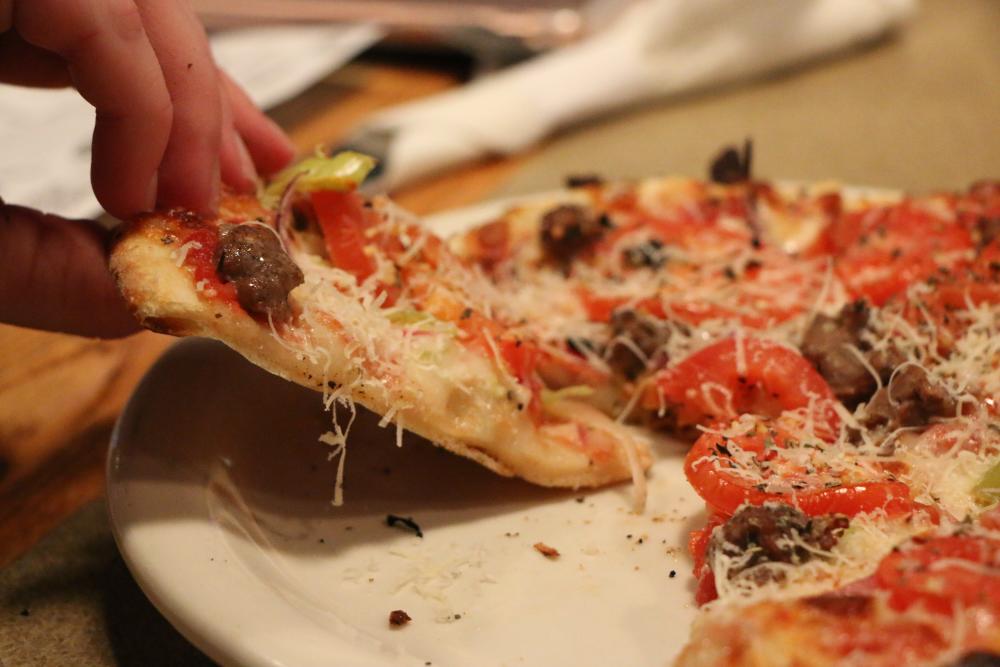 (The Mooney)
Bangkok Tokyo
Whether it was the day of hiking through Texas' backcountry, the friendly staff or premium ingredients—or a combination of all three—our dinner selections at Bangkok Tokyo that evening proved to be some truly delicious Asian cuisine. After an appetizer of salted edamame and simultaneously crispy and velvety cream cheese wontons, we collectively feasted on Chicken Pad Kee Mao, with sliced carrots as well as crunchy bamboo shoots and peanuts; authentic Pad Thai with flavorful green onions; shrimp fried rice with bright green broccoli and juicy shrimp with fried egg; incredible pineapple curry with red and green peppers and a distinctive curry broth; and soft shell crap tempura with a sesame dipping sauce.
Looking back, I wonder what the staff must have thought of our foursome of ravenous day hikers stretching our chopsticks across one another with little more than a few words spoken between us. We were so famished and the food was so delicious, eating took precedence over conversation.
Yellow City Street Food
The remainder of our culinary tour convinced me to fully reconsider Amarillo's anything-but-bland cuisine scene. The next afternoon, Andy was excited to show us Yellow City Street Food, a chef-owned restaurant inspired by street food from around the world. The food truck scene in Austin especially influenced the owners, Andy explained to us.
Yellow City's menu changes daily, but every item looked like a winner. It tasted like it, too. Aubrey got a braised pork taco that was packed with meat and topped with a spicy sauce, green onions, cilantro and cotija cheese. No matter how much I hinted that I'd like a bite, my wife wasn't sharing. No worries, I munched on the pork arepas, with a fluffy, pillow-like base topped with burnt-end pork and melty cheese, with color added from the red onion, green onion and cilantro. Brooke went for the eggs benedict, with a poached egg that looked ready to burst and a tortilla instead of an English muffin, which she shared with Andy, who got the animal fries (covered in a bright orange sauce that was magical).
Young Sushi and Rain
The next day, when Brooke and Aubrey were both craving sushi, I figured we had finally reached the limits of Amarillo's eateries; however, I was happily proven wrong.
"Honestly, the best sushi in town is a toss up," Brooke said. "Young Sushi and Rain are each sensational in their own ways."
She went on to explain that the Thai lunch specials at Young Sushi would make for a tasty preamble to a downtown happy hour at Rain's lounge. Mixed in with an afternoon of shopping and sightseeing, Brooke's idea proved to be the perfect plan.
At Young Sushi, Aubrey and I shared the beef Thai massaman simmered in slightly sweet coconut milk with soft potatoes, vegetables and roasted peanuts, while Andy and Brooke had the lightly battered Thai-style sweet-and-sour chicken with stir-fried cucumbers, tomatoes, pineapples and bell peppers (a combination I'd have to try for myself back home). And though we were all tempted to feast on Young's famous sushi, Brooke reminded us of the plan.
That evening we found a table at Rain and feasted on gourmet maki. Some of my personal favorites included the Texas cheese steak maki with cream cheese and filet mignon, the samurai maki with shrimp tempura and barbecue eel, Spanish fly maki with blush-colored yellowtail, crab and spicy jalapeños, and of course the aka kani maki with crunchy, sweet fuji apples, bright pink salmon and spicy sauce.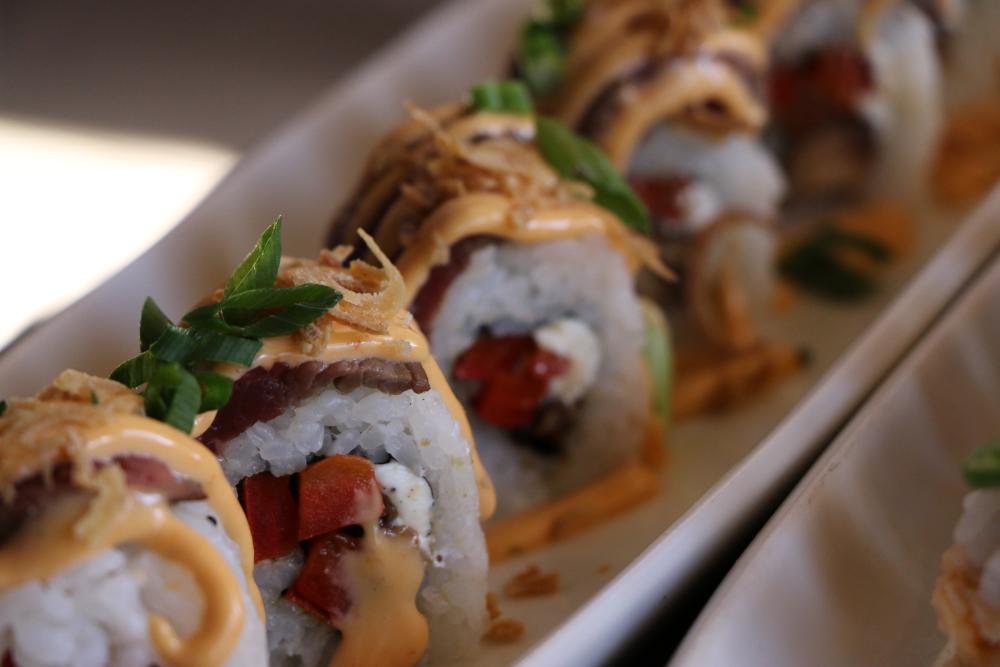 (Texas Cheese Steak Maki)
(Samurai Maki)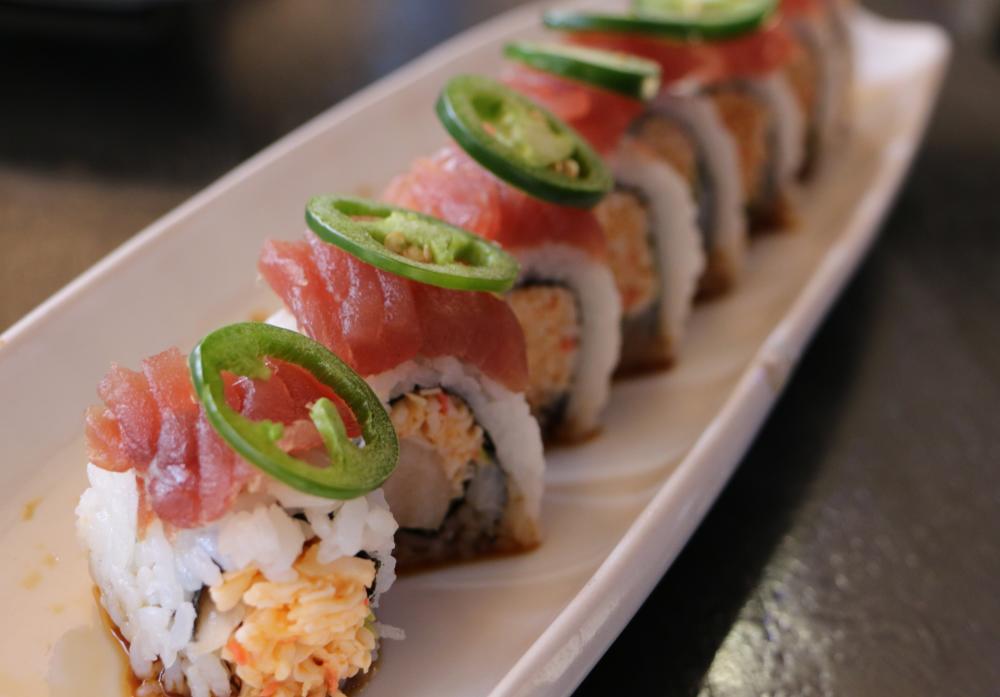 (Spanish Fly Maki)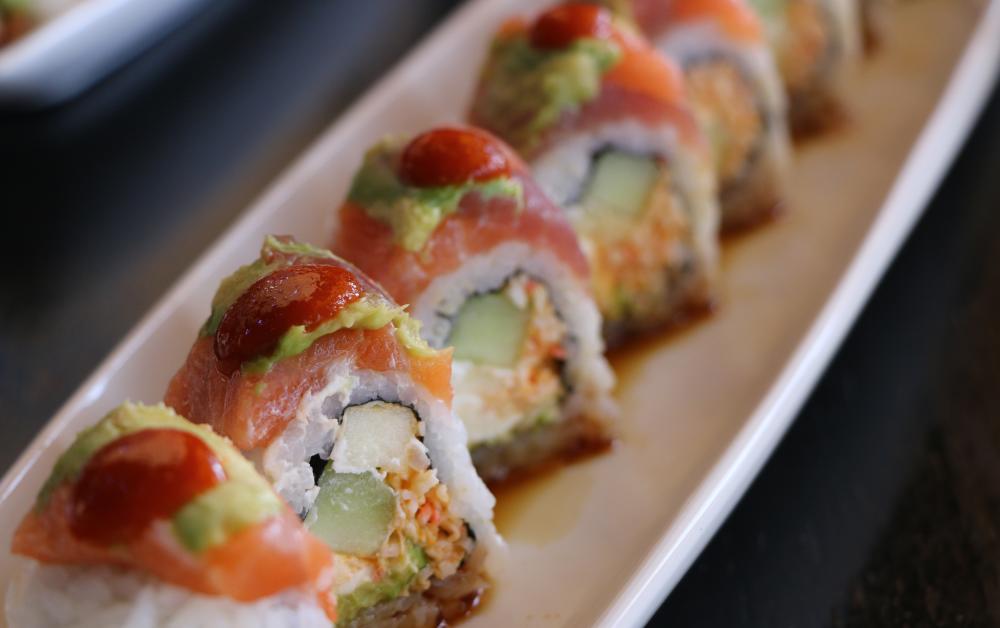 (Aka Kani Maki)
That night, as we raised our sake and toasted the end of our Amarillo stay and this unexpected culinary tour, I suddenly regretted all those times I had skirted the heart of Amarillo on my way north through the panhandle. What gourmet treats had I missed while settling for far less under the false assumption that Amarillo was little more than oversized steaks, baked potatoes and side salads?
I promised Andy that we would be back soon and he smiled. "Hurry back then. I know the perfect place to eat."