Tour in Amarillo
Located in the heart of the Texas Panhandle, Amarillo offers hundreds of local restaurants with cuisines from all over the world, a vibrant arts community, Route 66, amazing outdoor views, and much more. Groups can see Palo Duro Canyon, the second largest canyon in the U.S., then spend the evening enjoying a top-quality performance at the Amarillo Little Theatre, the longest-running community theatre in the country. They can spend time connecting with Americana on Route 66, then visit the famous Big Texan Steak Ranch for dinner, and leave their mark in spray paint on the Granddaddy of Roadside Art, Cadillac Ranch. From a true West Texas experience to a bit of the unexpected, there's sure to be something to fit every group interest and focus.
We would like to offer our assistance to you and make your stay in our city special for your clients.
Whether Amarillo is your final destination or a stop on a longer tour, our staff has the experience and know-how to help you put together the perfect stay.
Our Services
All complimentary of course!
General itinerary suggestions
Help with custom and technical programs
Logo pins
Visitor Guides
Images
Proposals from local partners
Contact Our Tourism Team for More Information
Christy King
Director of Tourism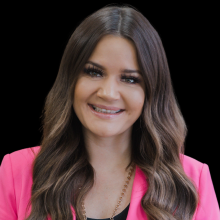 Born and raised in Amarillo, I am passionate about promoting my city! With over 15 years of hospitality experience, I have found my true calling in serving people and welcoming them with open arms. I love to tell the story of the true Texas experience we have to offer, while also being rich in culture and the arts. We are a little less "howdy" than you may think, and a little more "welcome home" than you expect. My job is to make sure every visitor experience is one for the books, and I find no greater joy. Whether a tour group or family, I am happy to assist in planning your itinerary and ensure your time in Amarillo will never be forgotten!