Finding Holiday Magic in Amarillo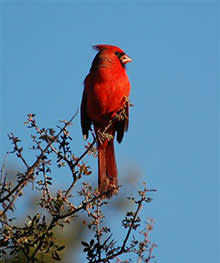 Monday: 21 degrees Fahrenheit and gray. Tuesday: 20 degrees Fahrenheit and gray. Wednesday: Freezing with no promise of sunshine. Thursday: Colder and icier still. Friday: Apocalyptic wintry weather. Welcome to Buffalo.


I have lived in Buffalo, New York all of my life, and the weather each December is roughly the same. You can expect to be freezing cold with barely a peek of sun all-month-long. After 35 years of it, I was ready for a break. My husband agreed, and we started searching for family-friendly places we could escape to with our three boys, ages 6, 4 and 2, for a mini winter vacation.


"How about Amarillo?" my husband suggested. "You know my sister has been trying to get us down there for years."


Texas in December? I glanced back at the weather app on my phone.


"It will be warmer and sunnier," my husband said. "I can promise you that."

A Chance to Reconnect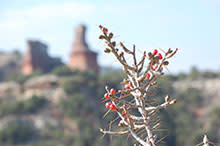 My sister-in-law moved from cold winters in the mid-west to Amarillo nearly a decade prior. She immediately fell in love with the rugged, authentic city.


Of course, we were happy that she found a new home. However, once she left, we didn't have any family in the area, which usually makes for a very quiet holiday season. There have been many years that I wished I could have given my children the exciting holidays I grew up with, surrounded with family and that sense of magic that seems to only appear at this time of year.


So when my husband presented the idea of spending some time in Texas, I didn't hesitate. The thought of being with family in a new, exciting and warmer place sounded wonderful.


On a sunny December afternoon, we stepped out of the airport and into 50-degree Texas weather with full sunshine. Some years, the Texas Panhandle weather can be a bit more challenging in December, however this year was perfect. My sister-in-law and her husband wrapped my kids in big hugs and started gushing about their plans for us, painting images of sugar-plums that danced in our heads.

Ready for Action

We had barely unpacked our suitcases when Julie and Doug announced that we would take in dinner and a show that evening. The Lone Star Ballet annually puts on "The Nutcracker," which has long been one of my favorites. Growing up, I had an aunt who would take me every holiday season, a tradition I wish I had continued with my own kids.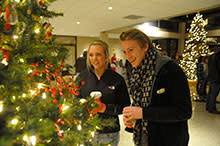 The lights dimmed, and the symphony quietly began playing the opening notes. The curtains parted, and we were transported into a world of dancing mice, gingerbread men, tin soldiers and dolls.


"Mom! There he is! The nutcracker!" my oldest whispered, eyes open wide.


"Wait until you see the Sugar Plum Fairy," I whispered back, equally as eager for what was still to come.

No Mittens?

The next morning, the children awoke eager to soak in the Texas sunshine.


"I know the perfect place," Julie said.


Thompson Park is 330 acres of sparkling lakes, playgrounds and walking trails. The perfect place for families with young children who are in desperate need of some outdoor play.


The boys were thrilled to find they could play outside wearing just jeans and a jacket.


"We don't need a hat and mittens?" my 4-year-old asked.


"Not right now!" I replied, relieved myself that I wouldn't have to wriggle restless children into full winter gear.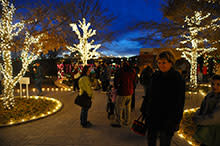 The boys played for hours, taking a break only to gobble down a picnic lunch of delicious Texas-style barbecue Doug had picked up for us.


"As good as this is, brisket doesn't exactly put me in the holiday spirit," my husband remarked.


"Just wait until tonight. We have big plans for tonight," Julie said.

Finding Magic

Doug and Julie were thrilled to have us as their holiday guests; it was the perfect opportunity for them to explore parts of Amarillo they had never experienced.


Inside Thompson Park is the 15-acre Amarillo Zoo, which, during the holiday season, puts on a lighted safari.


"Zoo lights sound fun!" my 6-year-old said with excitement.


Fun was an understatement.


Walking into the zoo was like walking into the North Pole you dreamed about as a child. Millions of multi-colored lights adorned every tree, bush, walkway and perimeter. Giant candy canes and stars lit up our walk as we explored the grounds, hot drinks in hand. Groups of carolers strolled by, singing the songs that often echo through our home at this time of year.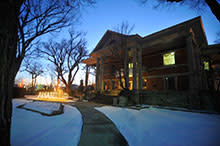 The boys shrieked as soon as jolly old St. Nick appeared with a shiny belt buckle and twinkling eyes that captured even the adults' attention. Each of my children told Santa what they hoped would be under the tree this year, and my 2-year-old shouted, "I want to live here with you, Santa!"


Later in the evening, watching my sister-in-law help my children make winter-themed "treats" for the birds at the zoo, I started thinking about recent holidays. We usually spent them trapped indoors, just the five of us. Sure, we enjoy each other's company, but it always seemed something was missing.


In the middle of the Amarillo Zoo, with the rich smell of roasted nuts and hot chocolate wafting through the air, I closed my eyes. I remembered that feeling of being a kid during this time of year. Everything seemed magical: reindeer that could fly, snowmen that came alive and nutcrackers that turned into princes.


That magic was exactly what had been missing from our holidays, and I knew we had captured it with our family in Amarillo.


Before going to bed that night, my sleepy 4-year-old asked if we could go back to "the magic land with the lights and Santa."


I wrapped my arms around him and said, "We'll be back every year, sweetheart."


And we have been.


Discover the magic of the holidays this winter with a getaway to Amarillo!


Photo credit: Dave Zallar