Rugged, Refreshing Ride
Mountain biking in Amarillo's Palo Duro Canyon State Park
By: Amy Becker Williams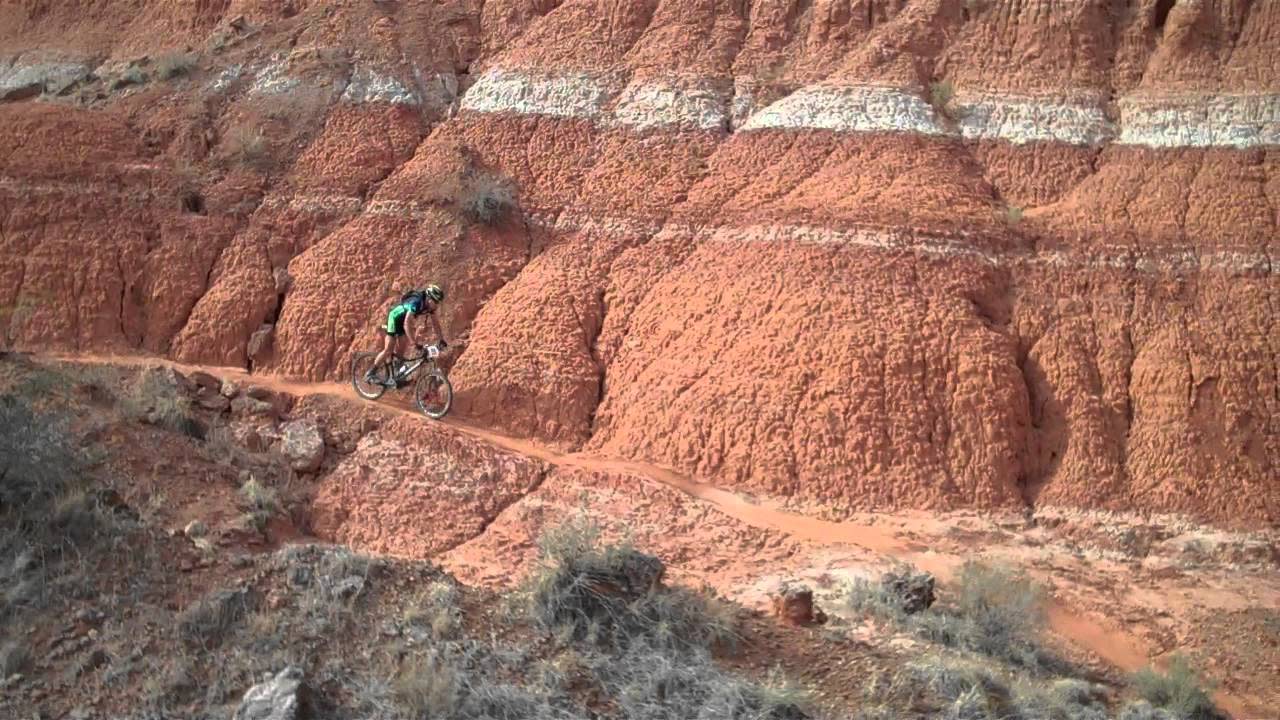 The sun spreads a golden glow across the canyon walls as the crisp early morning air and a slight wind are just enough to make the hairs on my arms stand up.  Morning is my favorite time to hit the trails.  There's something about the newness of a day to get me revved up and ready for a ride. 
It's been a few months since I've taken a real ride thanks to the usual job and life responsibilities, but with nice weather on the horizon, I'm reminded of rejuvenation and that it's time to get back on the trails. And, I'm not talking the well-known trails of Colorado or Utah, but the trails of Palo Duro Canyon State Park, my own backyard, my Texas Panhandle playground.
Mountain biking opportunities are surprisingly plentiful for what is considered a flat, treeless landscape around Amarillo, Texas.  Palo Duro Canyon, our nation's second largest canyon, opens up from a flat plain to an 800-foot deep canyon covering over 20,000 acres, and for bicyclists, a hearty 15,000 acres with over 10 quality trails to explore in Palo Duro Canyon State Park.  It wasn't until 1934, after the canyon was used as the first commercial ranch, that the upper canyon officially opened as Palo Duro Canyon State Scenic Park.  Today it's visited by over half a million visitors a year, as a recreational and scenic hot-spot full of possibilities.
I pull on my helmet and look over my nearly new Liv and wonder if this is the day I'll christen it with a spill on some gnarly turn or red rock, giving its shiny green veneer the first noticeable ding or scratch. Today, the possibilities are endless as I prepare for a mountain biking trance and a complete zoning-out from everything else. 
As I take one last sip of my coffee and lock up the car, I can't help but think of the history these steep, colorful canyon walls, from prehistoric man and animals to Native American tribes to members of Francisco Vásquez de Coronado's expedition.  I wonder about the lives that each of these inhabitants once led.
Hitting the trail
I throw a leg over my bike and begin the immediate, vigorous push toward the summit.  The Rock Garden Trail is an immersive 2.39 mile ride up and is marked for bicycles and hikers.  The 600-foot ascent is tough, but I like a challenge and always look forward to basking in some well-earned euphoria when I'm back at the trailhead.
The challenge increases
I continue to climb and begin to hear my own heart beating as I maneuver around boulders and up switchback after switchback. I push hard through a sandy turn and know that if I don't look beyond my front tire, I'll be whimpering in the cactus outcrops, or slipping off the downhill side of the trail all together. Sweat begins to drip down my neck, but it feels cool from the breeze as I power around curves, feel the burn in my thighs, and climb in a fluid motion over the rocks and canyon clay.
Before I know it, I'm to a tight right-handed corner signifying the notorious Rock Gap slab ahead.  I'd like to think I could ride up this short, yet extremely steep rise. But as many do, I hop off and hoof it up.
Luckily, just after this rough elevation gain, the trail mellows out into a mesa-like terrain long enough for my breathing to slow down and my body to relax. I've conquered the most challenging portion of Rock Garden's 600 feet of elevation.  My attitude is definitely on the upswing and work is the furthest thing from my mind as Rock Garden's peak approaches and the stark contrast of the blue sky meets the browns and greens of the southwestern landscape.
After climbing the last steep portion of the trail, I take a moment to sit atop Rock Garden's precipice, to soak in the picture-perfect view.  I slowly gaze left to right, right to left, at the full spectrum of the park and realize just how lucky I am to have this striking piece of nature so accessible.
I'm riding alone today but I also relish riding with a group of pals to give challenges and barbs along the way, but especially to commiserate with at the top of a trail or on the gravel parking lot after a day's ride.  Sometimes I just hit the trail with my cattle dog, who loves a good ride in the canyon almost as much as I do.
Knowing that what goes up must come down, I'm ready for my favorite, speedy challenge back to the trailhead.  I eagerly pick up the pace on a longer straightaway feeling every contour of the land and hearing nothing but the sound of my knobby tires propelling me forward.  A dip jars my body as my breathing quickens.
My momentum builds strength and for a split second, I think of my childhood bike rides in the canyon.  I get out of my zone almost a minute too long as I'm forced to make a sudden move away from a rattlesnake warming himself in the middle of the trail.  I regain my composure, feel the adrenaline pumping, and hear myself instinctively holler "Waaahooo!" just as I catch some air and let loose on the fun, flowy descent.  I laugh out loud at myself for reverting back to childhood for that moment. 
Winding down
Finally, after successfully retreating over 20 or so tech-y twists and turns, I'm back to the trailhead, and without a doubt, end my ride happier than when I started.  Life is good outside, surrounded by nature's beauty, and on a bike, of course. 
Today's possibilities luckily turned out perfectly, no spills, pure joy, and a clear mind to boot. 
Discover the outdoor opportunities in Palo Duro Canyon State Park!
PDC TRAILS: Overview  
Capitol Peak – an intermediate to advanced 3.5-mile trail with a few deep sand sections, difficult, steep climbs, and tight corners.  It starts out climbing on a wide trail, but continues as a singletrack trail.  There are bypasses for some fun obstacles that can get both wheels in the air.
Givens, Spicer, Lowry  – just over 3 miles of intermediate trail providing a good workout coupled with top-notch scenery.  GSL consists of some short punch climbs and technical climbs along parts of this steep, rocky singletrack. GSL used to be considered the most technical trail system until the addition of Rock Garden and Comanche.
Rock Garden – an advanced trail that runs 2.39 miles and gains 600 feet in elevation from the bottom of the canyon all the way to the top.  It's a perfect place for viewing the canyon, if you're up to the steep challenge and over 20 tight switchbacks and corners. 
Comanche – another advanced trail that's quite the technical battle and is more like a black diamond when comparing to ski slopes.  Make sure you know what you're doing.
Little Fox Loop – a fun, flat, windy loop that goes through some trees.  Be sure to make a stop at the picnic table and sign your name in the adventurers' book and look out for a few sandy spots. You may hear someone mention Cottonwood Flats, but it's just a portion of Little Fox.  Little Fox is also considered an extension of GSL.
Juniper Trail – a shady, fun, two-part trail.  Juniper Riverside goes in and out of the trees with some shady sections, has views of the beautiful Spanish skirt formations, and is considered intermediate with 1.07 miles of one-way trail.  Juniper Cliffside is longer with 2.83 miles one-way and is on the other side of the road from Riverside.  It has some steep sections and technical runs.  Cliffside is a pretty trail and runs beside curious percolation caves created by running water.
Lighthouse – the fun 5.7 mile round-trip Lighthouse trail is probably most popular with beginners, but has bypass sections for more intermediate fun. Take note that this is a highly traversed hiking tail and that you have to park (and should lock) your bike midway through if you want to make the climb and actually reach the lighthouse, which is considered the signature image of Palo Duro Canyon.
Sunflower – a relaxing 1.17 mile one-way ride along Sunday Creek, with streaks of white gypsum running though the canyon wall, perfect for novices.
Rojo Grande – about 1.07 miles one-way and connects to Sunflower.  Rojo sits at the bottom of the canyon and is shady and scenic.
Paseo Del Rio – a 1.03-mile one-way trail along the river that's smooth and shady.  Stop at the cowboy dugout for a glimpse of the 1880s.
PDC Hours & Information:
Palo Duro Canyon State Park, less than half an hour from downtown Amarillo, is open year-round, and during summer is opened from 8AM-10PM, 8AM-8PM most other months (with Friday and Saturday until 10PM), but closes at 6PM during the winter.  If you're camping in the canyon you'll get a gate access code to come in after hours.  Costs for entering the canyon run $5 per person and Free for kids 12 and under.  Ask about money saving season passes, 806-488-2227.
Important note: The canyon can get extremely hot and dry, especially during the summer months.  It is vital that you bring lots of water and stay hydrated, remember your pets too.
Special thanks to Michael Fiore of Outdoor Element Sports (806-353-2900) in Amarillo, Holly Strickland, and to Chad Glasco with Sun Adventure Sports.