Reconnecting amid unexpected West Texas activities

Three days. We booked three entire days to be together without the interruption of kids, a barking dog or ringing cell phones.


Inspired by a friend's suggestion, we gleefully headed to the west Texas city of Amarillo. She and her husband had taken a second honeymoon there and raved about it. We didn't need much of a push; a few clicks on the laptop and we were all set with a trip for two. I had heard surprising things about Amarillo from my friend, especially about how history was beautifully blended with modern in downtown, and I couldn't wait to check it out for myself.

Walking through history

We chose the cozy Parkview House Bed and Breakfast, which is a historic Victorian building filled with period décor. After we settled into our room, Chris and I decided to take a walk through the beautiful garden. Standing next to him and marveling at the blooming flowers, I realized just how much I missed being with him in a quiet, peaceful setting.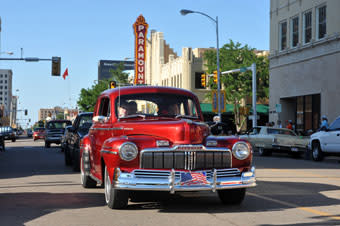 At the bed and breakfast owner's recommendation, the first item on our itinerary was a tour of the Polk Street Historic District. We were thrilled to take an elegant step back in time; something we certainly did not expect to see in the middle of a thriving downtown. We caught a walking tour that took us along several blocks packed with old homes. The Harrington House in particular was gorgeous, featuring a display of Mrs. Harrington's gowns, beautiful antique furniture and original structures dating back to 1914.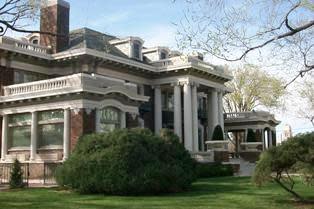 A younger couple in our tour group asked the guide if the historic district ever hosted weddings.


Chris and I looked at each other and smiled.


"Remember our wedding?" he asked. "I couldn't take my eyes off you."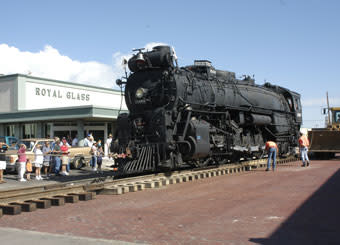 We broke from the tour and were surprised to run into the Madame Queen, which is a Texas locomotive 5000 that logged more than 1.75 million miles along the Santa Fe Railroad. The enormous steam engine rests proudly on display in downtown Amarillo. Chris said it immediately reminded him of playing trains with our son years ago.


We also visited the iconic Paramount Theater, which has been renovated to host offices but its exterior still has a beautiful pueblo deco feel. The iconic red and yellow blade sign evokes a bygone era when movies were a weekly ritual for many. Although the theater is no longer operational, the building itself is a lovely symbol of Amarillo's historic downtown.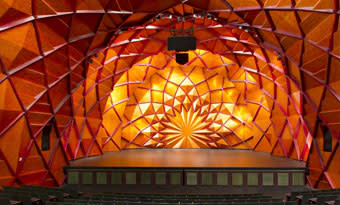 Unexpected Amarillo

All that walking triggered our appetites. Most people might opt for steak while in Texas, but we decided to try Young's Sushi Rocks at our friend's recommendation. It was conveniently located downtown, and walking through the doors felt like walking into Thailand. Who would have thought I could travel to Amarillo to have some of the best authentic Thai food I ever had?


We talked over yellow curry about our plans for the next day, which involved cowboy fun by day and classic beauty by night.


On the stroll back to our hotel, we stopped by the O.H.M.S. Café for a nightcap. We took a seat at the intimate bar and settled into the dark cozy atmosphere as we reviewed the drink menu. I enjoyed a fresh fruit infused vodka martini, and Chris, a classic Moscow Mule. We were happy to stumble upon this downtown gem.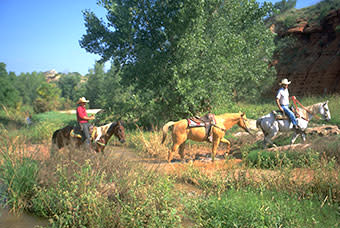 Cowboys and Ballerinas

Neither of us had ever been on a working ranch, so the next day we were eager to check out The River Breaks Ranch. Watching the skilled team rope cattle was fascinating, but nothing impressed us as much as the ride through the canyon.


My husband and I sat side-by-side under the shade of the covered wagon, traversing the land that the original settlers crossed while exploring the Texas Panhandle.


"Can you imagine how exciting and scary that must have been?" I whispered to Chris.


Before he could answer, a huge stampede of cattle roared by us, and Chris instinctively put his arm around me and held me until the last calf trotted past the wagon.


"Yes, I imagine there were some frightening moments!" he laughed.


After the wild afternoon, we were ready for a relaxing evening. We had debated between several highlights of downtown Amarillo's vibrant art scene, including a trip to a local dance hall or tickets to the symphony. We finally settled on a performance with The Lone Star Ballet.


As the dancers floated across the stage and the orchestra's music reverberated through the auditorium, I linked my arm through my husband's. What an unexpected and pleasant surprise to find that spending a few days in Amarillo held the perfect mix of just what we needed.

Memories to last forever

We left the agenda for our final day in Amarillo wide open so we could discover the area along Route 66. We were thrilled to find quaint art shops that featured paintings of the historic downtown and handcrafted pottery that perfectly captured the variety of colors we had seen in the yawning canyon at the ranch.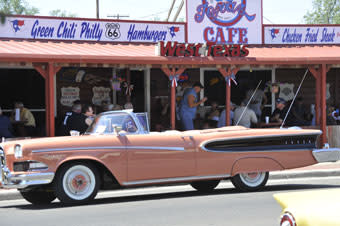 "I got something for you," Chris said as we headed back to the bed and breakfast.


He reached in his pocket and pulled out a beaded necklace with rich browns, blues and greens.


"I saw it at that little jewelry store we were in," he explained. "The colors look like the blue sky and the grasslands and rock at the ranch. It reminded me of our trip, and I wanted you to have it."


I immediately put it on and hugged the man I married. We had spent three days filled with activities that brought us closer, whether they reminded us of our past or nudged us to focus more on enjoying the present.


To this day, whenever life seems hectic and I see that necklace hanging in my jewelry case, I am filled with fond memories of our exciting getaway in Amarillo. I didn't expect to find such a sophisticated and hip city in the west Texas Panhandle. Turns out, we found that, and so much more.


Order your free visitor guide to discover your own unexpected slice of Amarillo!