How to eat and play like cowboys and cowgirls in the Texas Panhandle

No doubt about it-Amarillo's Old West flavor pops up all around you, a mix of equal parts Texas grit and innovative modern industry. A bustling and vibrant city where traditional working ranches surround a rich patchwork of culture, arts, cuisine, shopping and entertainment, Amarillo brims with Old West character and contemporary clout.

Food First

When you find a local restaurant with more pickup trucks than cars in the parking lot, pull in. You have found a local favorite where you are sure to get an honest meal and maybe even overhear conversations about calf prices or how the weather is helping or hurting grazing.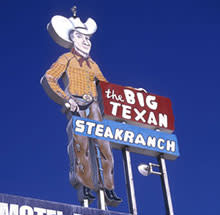 Find plenty of old-fashioned Texas cordiality at The Big Texan, home of the world-famous 72-ounce steak. The original location opened on iconic Route 66 in 1960. Billboards along the route challenged travelers to eat a 72-ounce steak (free if finished within an hour), and the legend was born. Once Interstate 40 replaced Route 66 as a major artery, The Big Texan relocated and brought its giant cowboy sign along. You literally cannot miss it.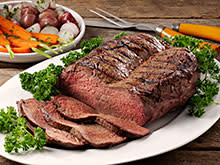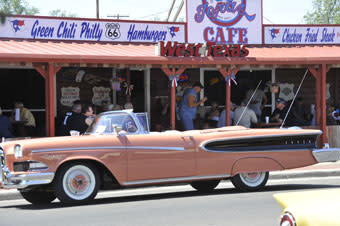 For more Amarillo restaurants that celebrate Texas home cooking, try Youngblood's Stockyard Cafe for award-winning chicken-fried steak, burgers and catfish. Lone Star Bar & Grill claims "no small steaks and no hot beer." Order up a rib eye or the popular bacon-wrapped filet and a side of fries for dinner.


River Breaks Ranch is a 104-year-old working commercial ranch that raises cattle and horses and serves up Texas hospitality. Host a private party or enjoy wagon rides, cattle stampedes, horse racing and team roping, along with top-notch live entertainment. Mesquite-grilled steaks, cuatro-rubbed brisket and orange-glazed pig are just a few of the specialties River Breaks serves against a stunning Texas ranch backdrop.

In the Saddle

Explore the Texas Panhandle and its rich heritage and lore at Cowgirls and Cowboys in the West. This Western adventure outfitter lets guests saddle up for horseback riding tours. A ride atop an American Quarter Horse through the rugged landscape of Los Cedros Ranch taps into the authentic cowboy way of life.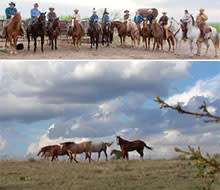 Enjoy the panoramic drama of the country's second largest canyon on horseback at Old West Stables in Palo Duro Canyon Park. Artist Georgia O'Keefe captured the light and color of the so-called Grand Canyon of Texas that families can meander through for a scenic day ride or during a weeklong vacation.


Dove Creek Ranch, nestled in the verdant Tierra Blanca Canyon outside Amarillo, is known as an oasis on the High Plains of Texas. From cooking classes and riding lessons, Dove Creek offers up a welcome respite from a busy world.

Stepping Out

Dress the part of a cowboy or cowgirl with the help of one of Amarillo's many Western shops. Pick the perfect clothes and hat, then pull on your dancing boots to indulge in some of Amarillo's electric nightlife at the Western Horseman Club. Billed as one of the city's best dance floors, the lively venue features Country Western bands along with classic rock on Friday and Saturday nights. Midnight Rodeo, the Texas Panhandle's largest honky-tonk, is another local favorite for two-stepping to live music. Check out the concert schedule for national and regional acts that make this night out on the town a smash hit.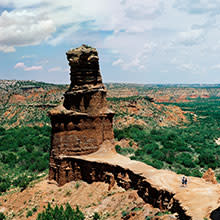 However you choose to release your inner cowboy, one thing is guaranteed in Amarillo-you'll have a good time surrounded by authentic people in a proud city.