Discover acclaimed art spaces and a vibrant gallery scene

By Courtney Kemp


There is something magical about autumn. The air seems lighter, crisper with a slight chill. Warm colors surround you from changing leaves to the orange and golden tones of the sunsets. It is my favorite time of year, and experiencing it in Amarillo-a city with breathtaking canyon vistas and big, endless skies-proved to be a special treat.



Palo Duro Canyon State Park 


I encountered the visual masterpiece of autumnal Palo Duro Canyon in person and then again at the Galleries of Sunset Center while staring at a magnificent oil painting depicting white-tailed deer leaping through the dramatic orange and yellow-toned "Grand Canyon of Texas." The Sunset Center is a true wonderland for art lovers, with more than 55 galleries to explore featuring established and up-and-coming artists. Pottery, oil paintings, sculptures, handmade jewelry, watercolors and pastels are on display throughout the expansive space, providing surprises and new experiences at every turn.


The city's creative spirit is also celebrated at the Amarillo Art Institute, which hosts a gallery and weekly workshops and classes. Local artists founded the Institute, and the community's passion for the arts is evident.


While walking down one corridor, I heard an instructor's voice remind people to be in tune with their brushes. I peeked inside and saw a range of students sitting in front of easels, painting. It was amazing to see so many people engaged with art and creativity and sharing this experience-and their own creations-with each other.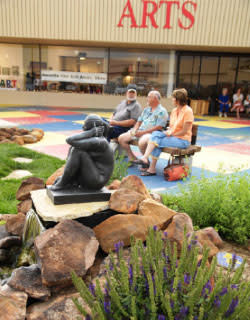 Galleries of Sunset Center 


Energized by this discovery, I continued my art tour around town at small galleries, artist-owned galleries, coffee shops and cafes with galleries. At the Amarillo Museum of Art, I discovered an extensive collection of photographs from Dorothea Lange as well as modern paintings from Franz Kline and watercolors from Georgia O'Keeffe.


It is one experience to read about a work of art or see it in a book and yet another experience altogether to find yourself standing in front of the art, examining every brushstroke. I was also moved by the museum's extensive collection of Asian art, which includes pieces from 2nd Century B.C. to the 20th Century.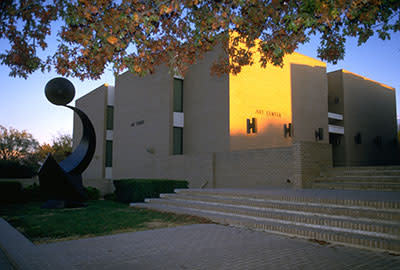 Amarillo Museum of Art


At the end of my Amarillo art tour, I popped in Crush Wine Bar. Again, I found myself in a creative hub among sharply dressed 20-somethings as well as those casually dressed in T-shirts and jeans, like me. It was clear that creativity in Amarillo is part of the daily vibe here. I kicked back, soaked it all in and ordered some Texas treats to top off a perfect art crawl.


Cheers, Amarillo!