From its rich western history to natural wonders & quirky tourist "traps" there is a whole lot to see and do up here in the Texas Panhandle. For the cowboy & cowgirl enthusiasts (like myself) I'm sharing the top 8 western activities in and around Amarillo:
1. Sleep Like a Cowboy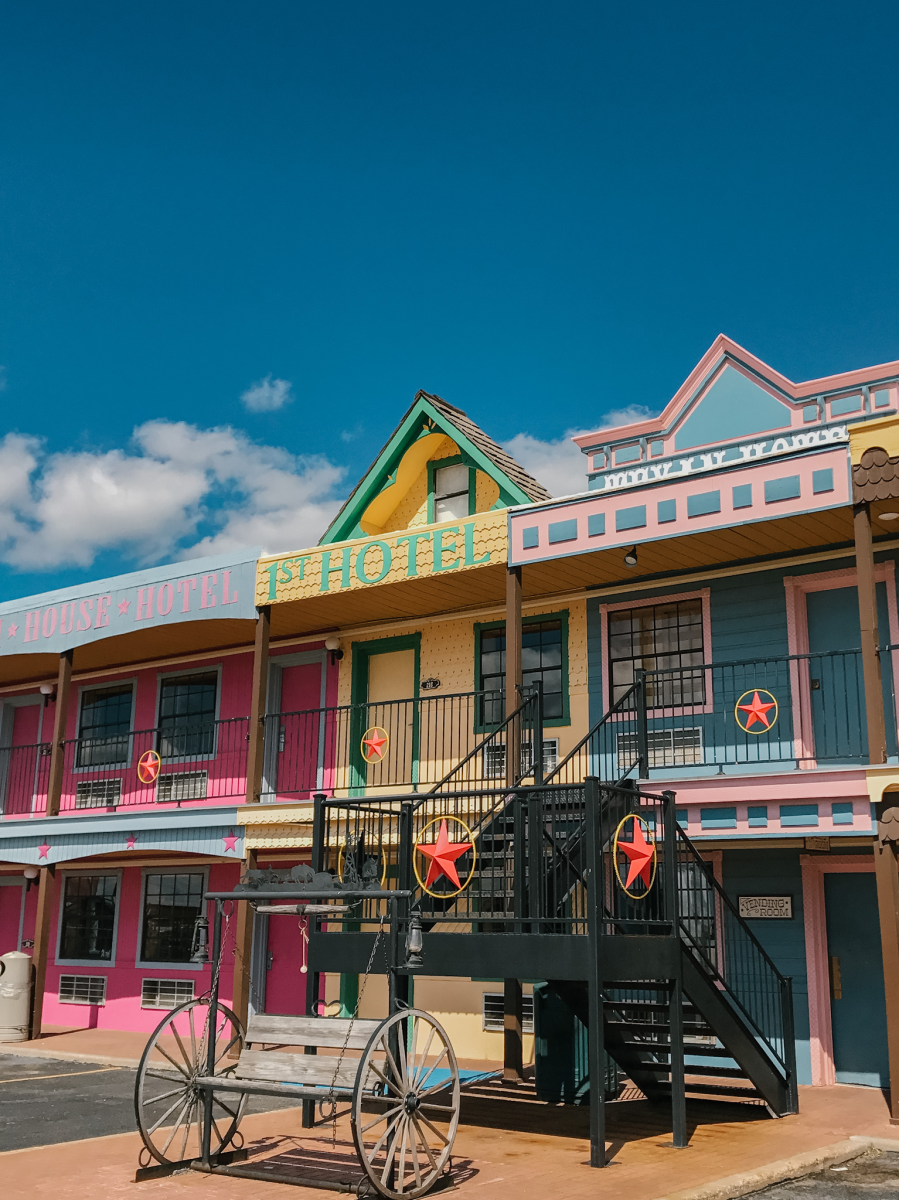 We're all about a good theme over here. Kick-off your wild western weekend in style at The Big Texan Motel - adjacent to the famous Steak Ranch restaurant. Its facade is designed to mimic a colorful main street in an old western town. Guest rooms are fully outfitted in cowboy-themed decor that will delight guests of all ages. Come summertime, you can even take a dip in the motel's Texas-shaped swimming pool!
2. Dine at the Big Texan Steak Ranch - Home of the Famous *Free* 72 oz. Steak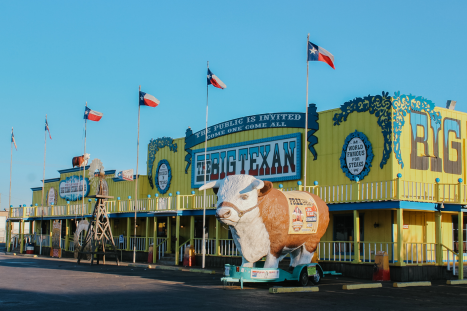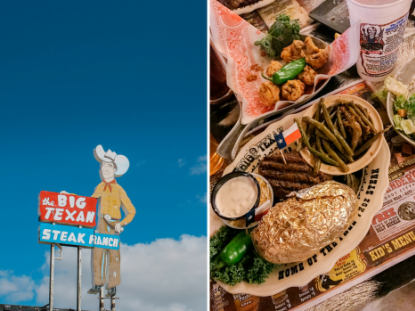 You can't pay a visit to Amarillo without stopping for a steak at The Big Texan. This famous stop along Route 66 feeds more than half a million people each year from all over the world. After trying my first bite of their famous juicy steaks, I can totally see why people flock from afar to have dinner here. The western-themed decor inside is so much fun too! Folksy singers will even come around from table to table to belt out a tune to your family while you dine. We were treated to "Oh, My Darling Clementine" and "Rocky Top" (upon request) during our delicious dinner.
If you're feeling hungry, you can always order up their famous *free* 72oz steak. The only catch is, you must eat the entire steak and sides in under an hour to receive this oversized delicious dish for free.
3. Dive Into Western History at the Panhandle-Plains Historical Museum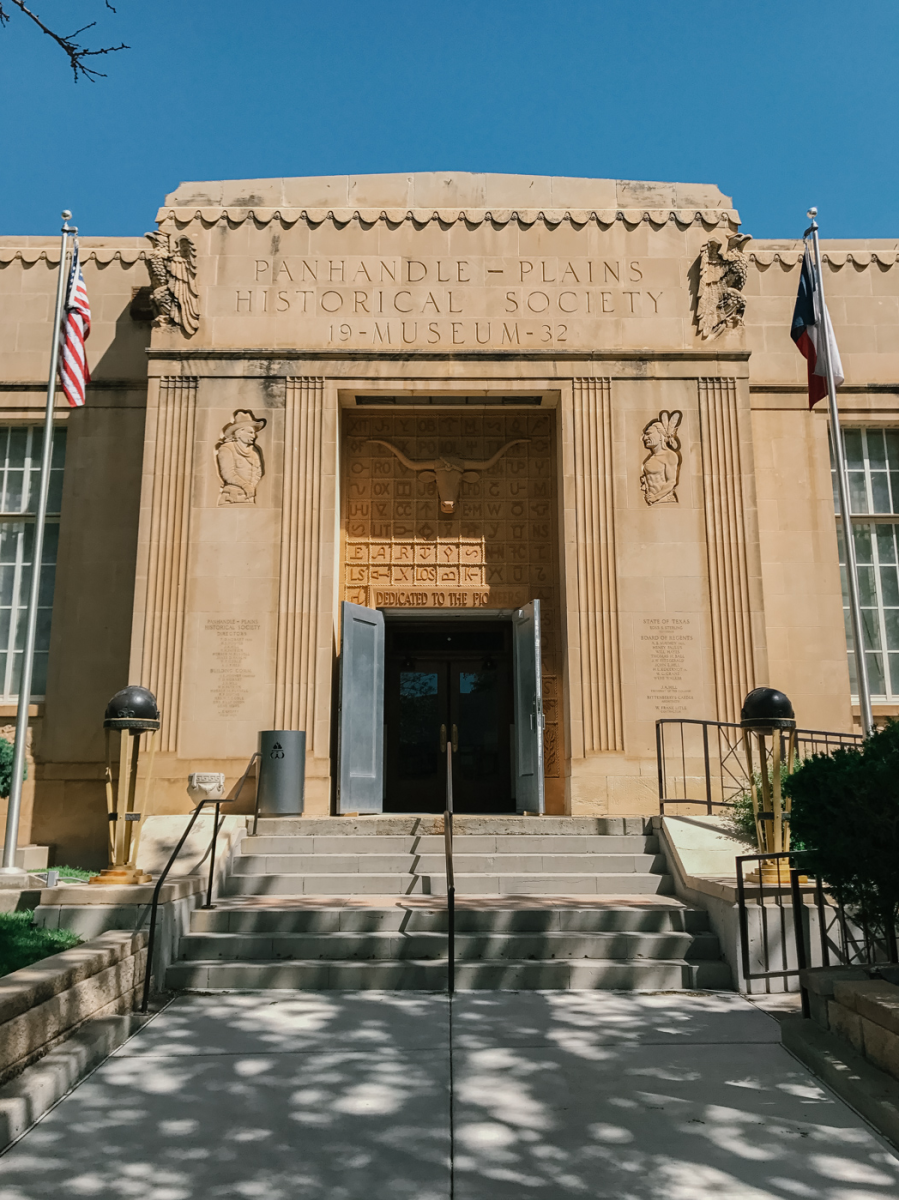 The Panhandle-Plains Historical Museum is actually Texas' largest history museum! Interactive exhibits are designed to entertain children and adults alike, highlighting the history of the region while dating all the way back to dinosaurs and conquistadors. Visitors can step back into time uncovering artifacts from the "Old West" and even stroll a life-size Pioneer town. Our family easily filled our afternoon here and to be honest could have spent the entire day perusing the museum's many different exhibits.
4. Visit Palo Duro Canyon State Park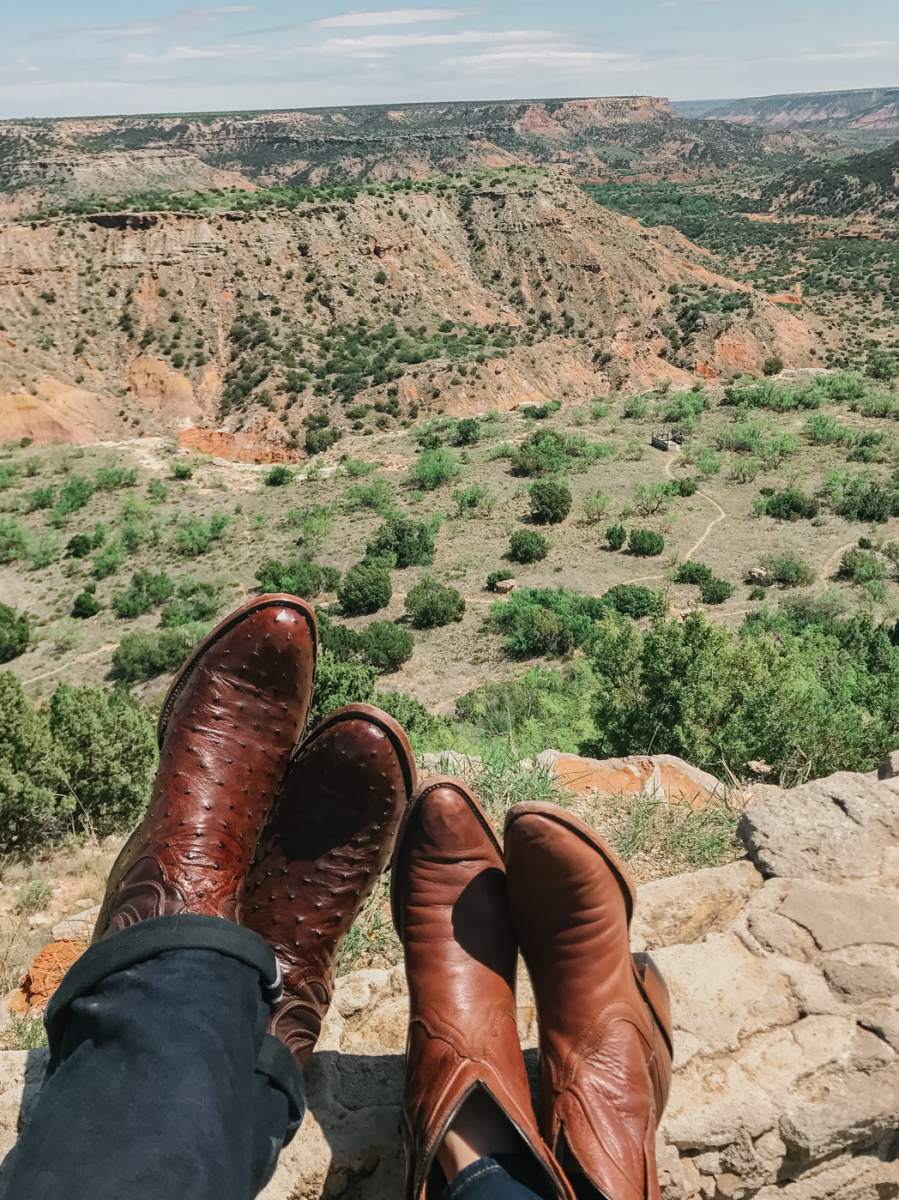 Palo Duro Canyon State Park is a can't miss destination if you're paying the Panhandle a visit. At just about 25 minutes outside of Amarillo, it's been dubbed as the "Second Largest Grand Canyon" in the USA. Nature-lovers will enjoy soaking up the canyon's stunning scenery and larger than life rock formations. The bright banded rock layers of red, orange, and yellow are not only beautiful to look at but they also boast a fascinating history. Signs of inhabitants can be found through rock fossils here dating as far back as 10,000 B.C.!
With many hiking trails to choose from, you really can't go wrong. Popular trails are the Sunflower, Del Rio and Rio Grande - each roughly two miles long and perfect for families to enjoy together.
5. See TEXAS the Outdoor Musical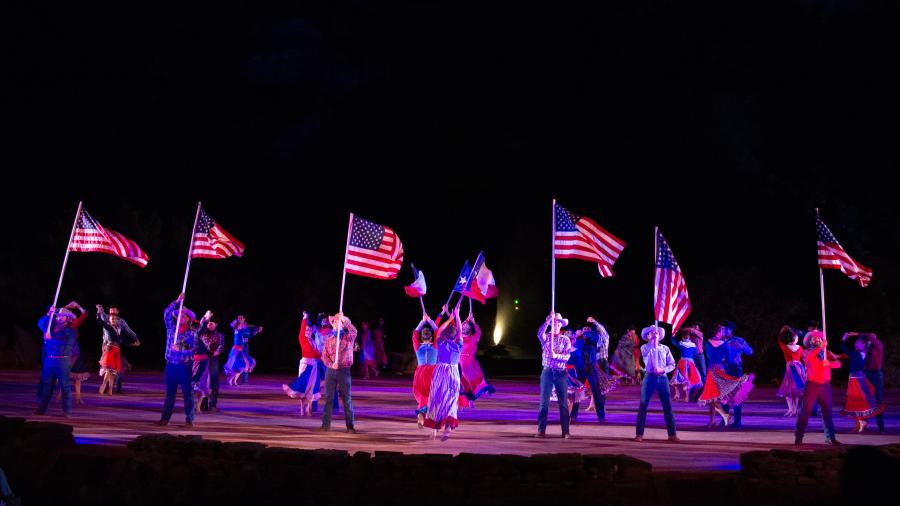 Every Tuesday through Sunday during the summer months, Palo Duro Canyon's outdoor Pioneer Amphitheater delights guests of all ages with a Texas-themed musical drama. Over 60 musicians, singers and dancers take to the stage to show off the great state of Texas in a one-of-a-kind theatrical experience. We visited Amarillo in April a few years ago and I'm already itching to go back come summertime to see this seasonal performance!
6. Spend the Night in Canyon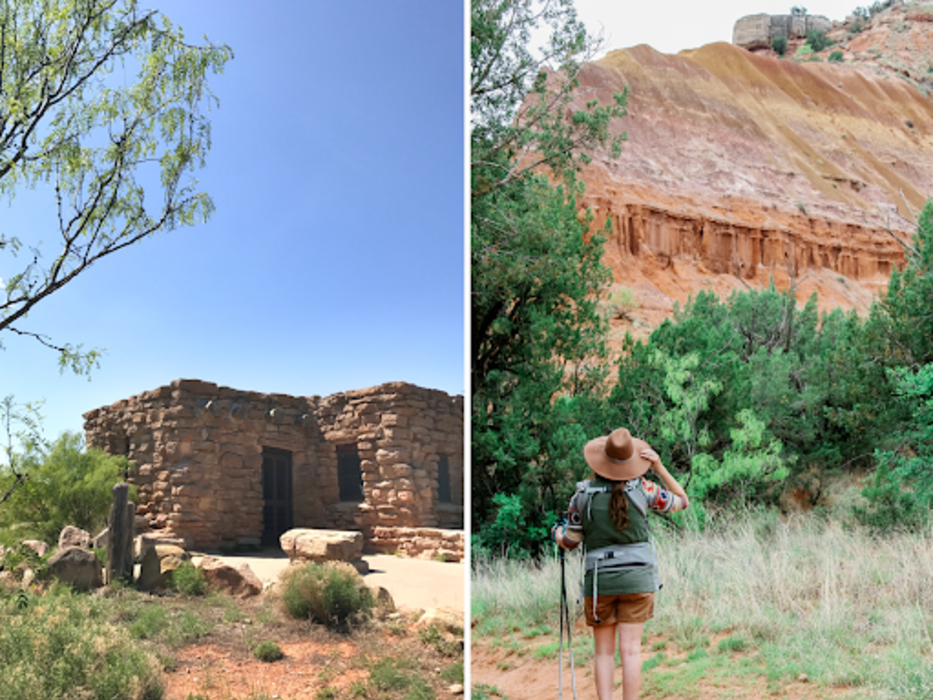 Adventure-seekers can opt to spend the night in either the bottom of the canyon (like we did!) or atop the rim in one of the park's stone cabins. We spent two nights in the "Cow Camp" at the bottom of the canyon floor and were treated to the most magical sunsets followed by spectacular night skies lit up by the stars. Starting at only $60 a night, these cabins are a budget-friendly and unique way to experience Palo Duro Canyon.
I will say, the stone cabins are a bit primitive, you'll need to bring in your own food, drink, bedding & gear. We are avid campers and thought it was wonderful, though! If you prefer more of a glamorous style getaway, the state park now offers a true "glamping" experience with brand new luxury campsites close to some of the park's best trails too!
7. American Quarter Horse Museum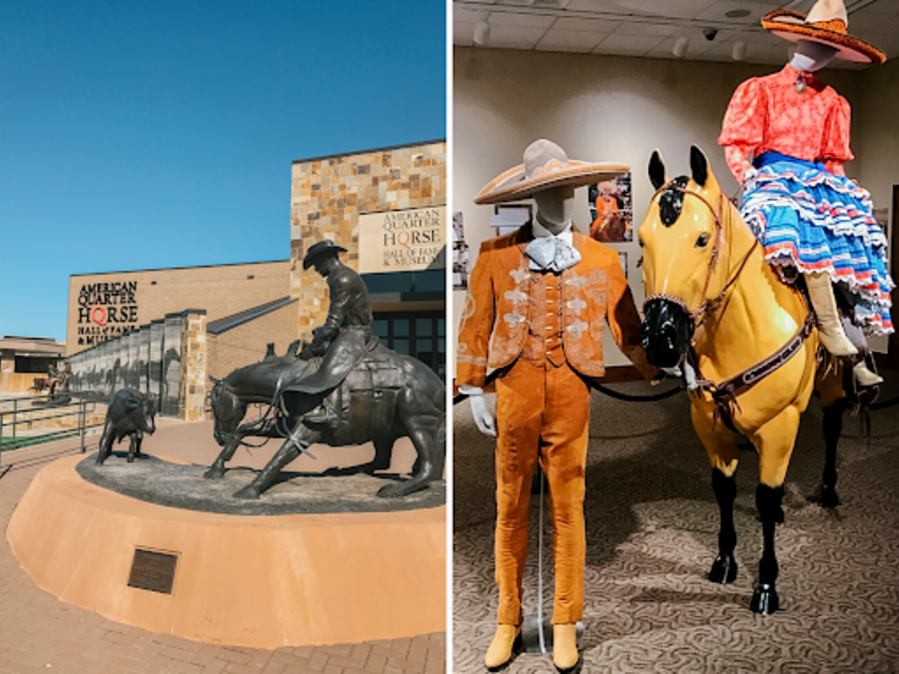 A visit to the American Quarter Horse Museum is like a visit to a "piece of the West." The museum honors the breed, its history and acts as a place of sanctuary and reflection for the history-making quarter horse. Guests can check out the film unfolding the history of the quarter horse, experience hands-on exhibits highlighting the joys of owning a horse and all that it entails - and tour the hall of fame exhibit. My family had a lovely time touring this museum and left with a newfound appreciation of the quarter horse too!
8. Shop for Western Goodies Along Route 66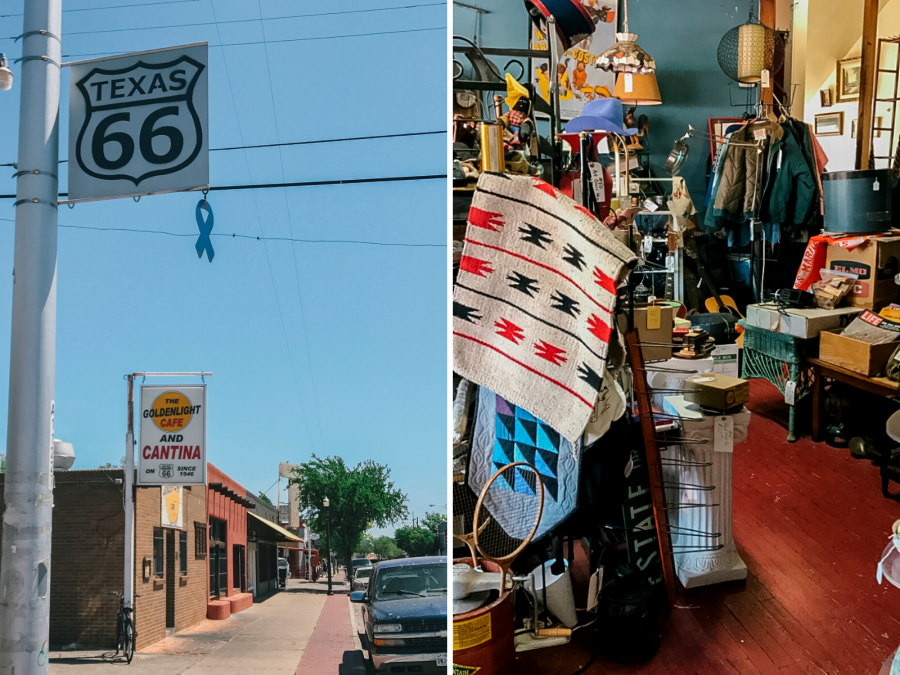 You simply must get your kicks on Route 66 when in Amarillo! Route 66 is often referred to as the "Mother Road of America." Amarillo has been a designated pit stop along Route 66 for decades. The city's Route 66 Historic District was the first residential and business district in the city. This mile-long stretch is home to quirky shops, delicious eateries and galleries, collectible stores and more. One of Route 66's antique shops is a great place to pop in & peruse nick nacks for a one-of-a-kind Western souvenir of your visit to Amarillo.