Summer Bliss in Amarillo: 8 Great Ways to Celebrate the Season
Visit one of the country's most iconic roadside attractions, get your kicks along a historic highway, enjoy minor-league baseball at its finest, and savor locally made craft beer and vodka. Make all these adventures a part of your summer in Amarillo. Situated in the heart of the Panhandle Plains, "The Yellow Rose of Texas" is a one-of-a-kind destination with enough experiences that'll have you coming back for more. Need help getting started? We've put together some of our favorite things to see and do during this time of year. Read on to learn more, and we'll see you this summer in Amarillo.
Skip to Your Favorite Way to Celebrate Summer
EXPLORE THE ROUTE 66 HISTORIC DISTRICT
There aren't many roads that become a part of our pop culture, but Route 66 wasn't just any highway. After all, it was the first all-weather road that linked Chicago to Los Angeles, revolutionizing travel across the country and becoming the worthy muse behind the Nat King Cole Trio's famous song Get Your Kicks on Route 66. While there are other highways now, you can still get a taste of this American classic in Amarillo's Route 66 Historic District. Park your car and explore the area, which is home to countless bars, restaurants, and shops like The Nat Ballroom, where you'll find more than 100 art, antique, jewelry, and other vendors. Browse for as long as you like, then head over to Blue Sage Pottery to admire all the eye-catching handcrafted pottery works made right here in Amarillo.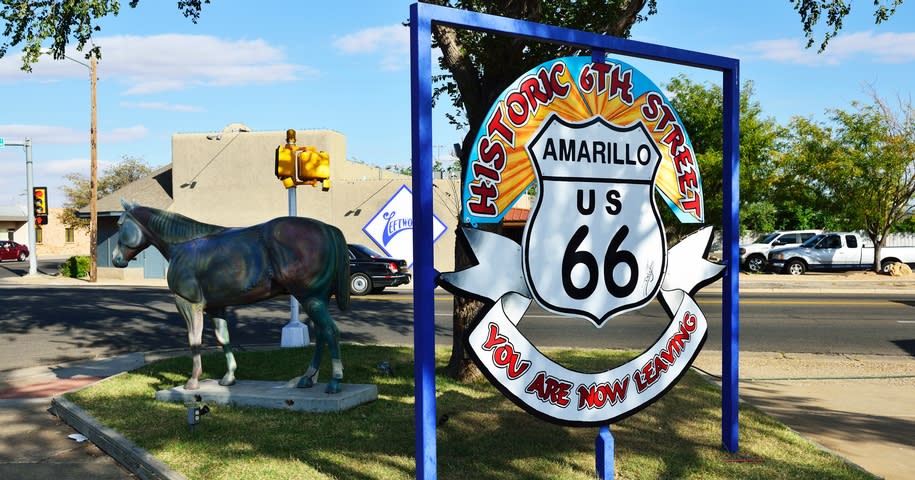 You won't have to go far when your appetite rolls into town, as the district has local eateries that serve up all kinds of crave-worthy dishes. Step inside Golden Light Cantina, the oldest continuously operating cantina on Route 66, and you'll be greeted with the aromas of mouthwatering burgers and hearty sandwiches. For some lighter fare made with the freshest ingredients, find your way to The Eatery on Route 66. Take your pick from a menu full of enticing sandwiches and salads and cap your meal with a cookie or macaroon (or both) baked in house. If you're on the hunt for vegan fare, look no farther than 806 Coffee Shop. A hip spot to sip on your favorite kind of brew, the café serves a delicious chili with veggie burger crumbles and roasted vegetables, along with other delectable bites.  
As day turns to night, hit the town to enjoy an evening of live music and your favorite kind of drinks. Find a spot in front of the stage that frequently hosts local performers at Golden Light Cantina. They showcase the talents of touring bands on Friday and Saturday nights, so make sure to stop by while you're exploring historic Route 66.
CATCH A SHOW AT STARLIGHT RANCH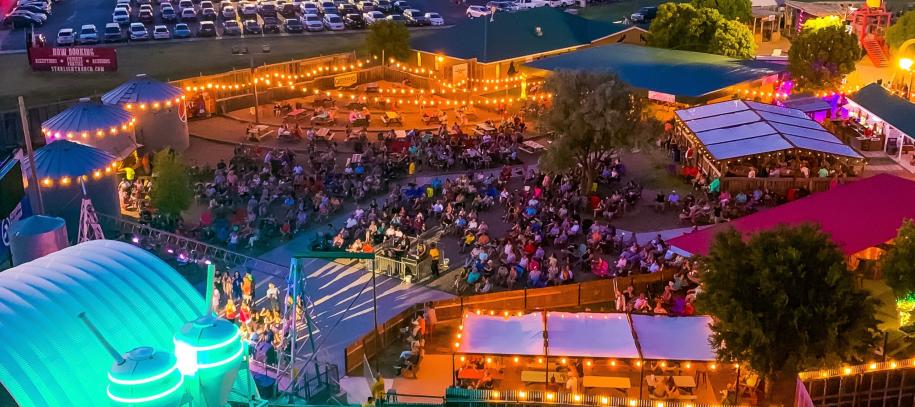 There's nothing better than an outdoor concert on a cool summer evening. Unless you're at Starlight Ranch, of course. Much more than a music venue, Starlight Ranch is a fun-for-all ages hangout with more than enough ways to enjoy a night out. Listen to a nationally touring band, sink your teeth into street tacos or pizza from one of several food trucks, and grab a drink at a bar. Then get lost in an actual maze, play through a mini-golf course, and ride a zip line that affords a bird's-eye view of the 15-acre ranch. Regardless of how you prefer to enjoy yourself, you'll find it at Starlight Ranch this summer.
SEE A TRUE ROADSIDE ICON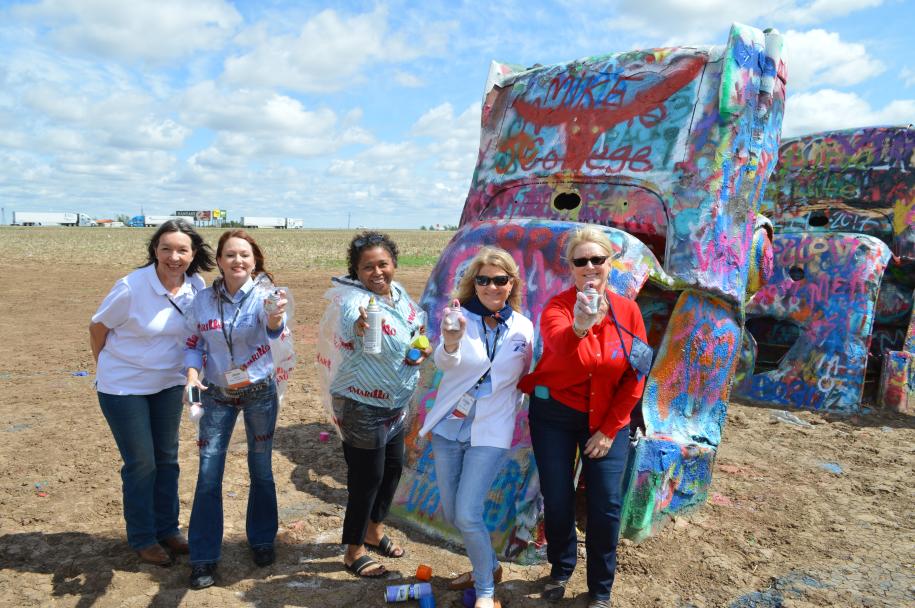 Standing over a flat stretch of ranch land just west of Amarillo, the half-buried autos of Cadillac Ranch are a must see no matter when you visit. An iconic art installation turned roadside attraction located along historic Route 66, Cadillac Ranch has been a mandatory stop since it was installed in 1974. Visit and you'll notice the 10 Cadillacs are splashed in a chaotic kaleidoscope of colors. That's because other visitors have been spray painting designs, messages, and whatever else they want on the cars. Bring a can of your own spray paint and you can take part in an authentic Texas tradition that goes back years. Are you not feeling artistic? Take your time to admire what others have done, as well as how the Cadillacs stand out on the flat stretch of land that reaches far into the horizon. 
COOL OFF WITH A PINT OF LOCAL CRAFT BEER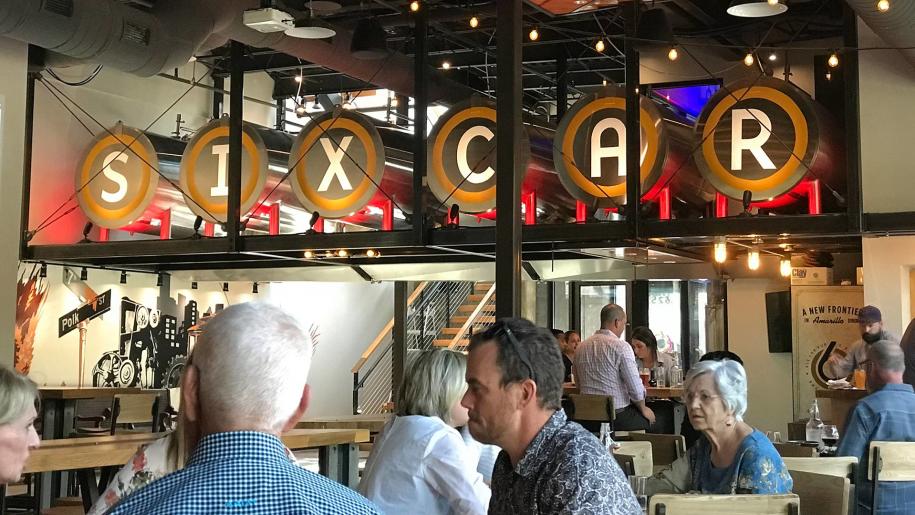 Sometimes, the perfect tonic to a hot Texas summer day is a tall, cold glass of locally made craft beer. There's no better place to be when you're thirsty than Amarillo, where you'll find three independent breweries that create their own takes on your favorite style of beer. Come as you are to Pondaseta Brewing Co.'s casual taproom, where you can sample a stunning array of brews, including everything from a German dunkelweizen and a hazy IPA, to a delightfully smooth stout and a chocolatey pecan porter. When it cools off, take the party to the brewery's outdoor patio, where a large colorful mural sets a backdrop to a relaxing evening out.
For brews with a view, Six Car Pub & Brewery is the spot for you. This hip and modern brewery and restaurant crafts a Kolsch, Belgian tripel, IPA, farmhouse ale, and milk stout that are best enjoyed on its rooftop patio with a view of downtown Amarillo. You won't even need to go anywhere when your appetite kicks in, as the eatery's menu features burgers, sandwiches, salads, and pizzas. There's much more beer you can try at LWS Brewing, where darker brews like a coffee porter and an Irish stout pour from the taps.
When you need to beat the summer heat, Amarillo's craft breweries offer the ideal way to cool off.
SIP AMARILLO'S OWN VODKA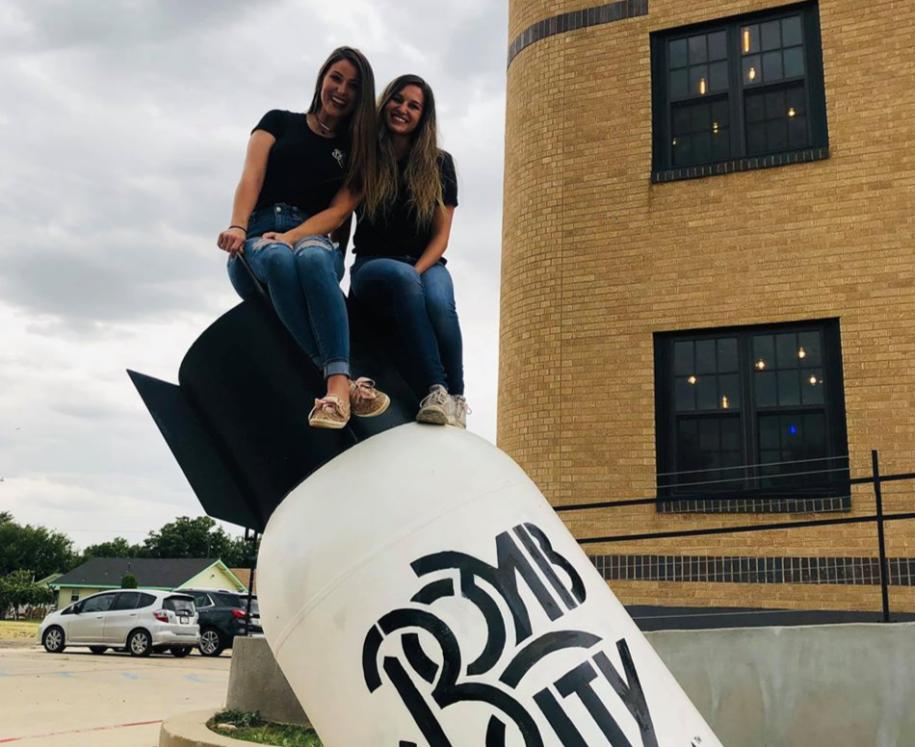 If you're a cocktail connoisseur, try a local take on your favorite beverage at Amarillo's only distillery, Bomb City Distillery. Taking Amarillo's own nickname (due to the city having the only nuclear weapons assembly and disassembly facility in the country), the distillery handcrafts its own vodka that is distilled 12 times using high-quality grains and premium water. Sample it for yourself in the distillery's tasting room, where you can choose from traditional drinks like a Moscow mule and a vodka cranberry or house-made creations like a bullfrog and a blue jelly fish, made with limeade and blueberry lemonade, respectively. Take your time as you savor your drink, then buy a bomb-shaped bottle for your own bar at home.
GET OUTDOORS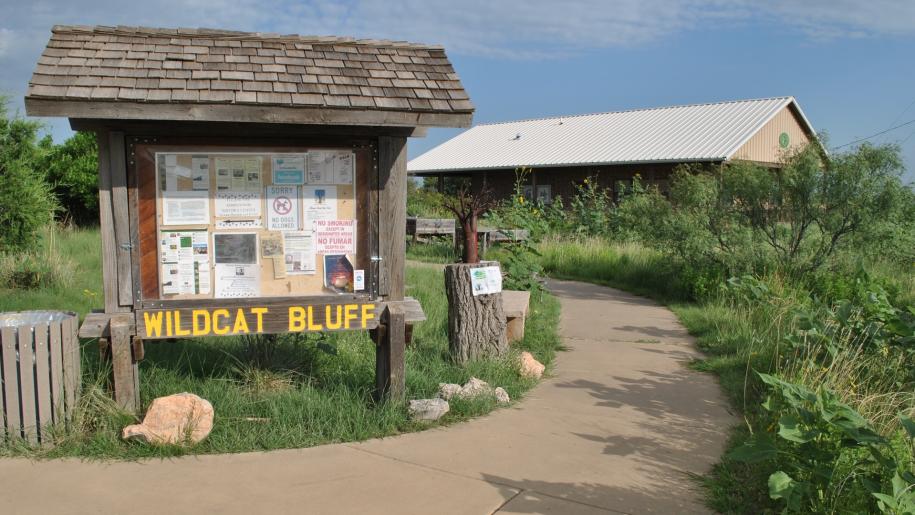 Looking for an escape to nature this summer? Find your way over to Amarillo's Wildcat Bluff Nature Center, a 640-acre natural area that preserves the flora and fauna of the Texas Panhandle. Keep an eye out for birds and animals like deer and horned lizards as you stroll through grasslands and past rocky bluffs on five miles of hiking trails. There are paved trails as well that are the perfect way to breathe in some fresh air without taking up an entire day. Since this is summer, bring water and plan your visit for early in the morning before it gets hot outside.  
TAKE A WALK ON THE WILD SIDE
Lions, lizards, and lemurs. These may not be the first things that come to mind when you think of the Panhandle Plains of Texas, but they are among the many wild critters you'll find at the Amarillo Zoo. Covering 15 acres of lush terrain, the zoo provides a habitat for more than 80 species of animals. Walk from one area of the park to the next and you'll see enormous Texas longhorns, red foxes, pronghorns, parrots from Africa and South America, Burmese pythons, Bengal tigers, bison, and mustangs.
Although any season is a great time to visit the zoo, summer stands out. Longer days give you more time to explore the zoo, and trained volunteers that staff special Zoofari Carts will be on hand to answer your questions about the animals. Don't miss the keeper chats, special events that may include live demonstrations and giant tortoise encounters.
PLAY THE DAY AWAY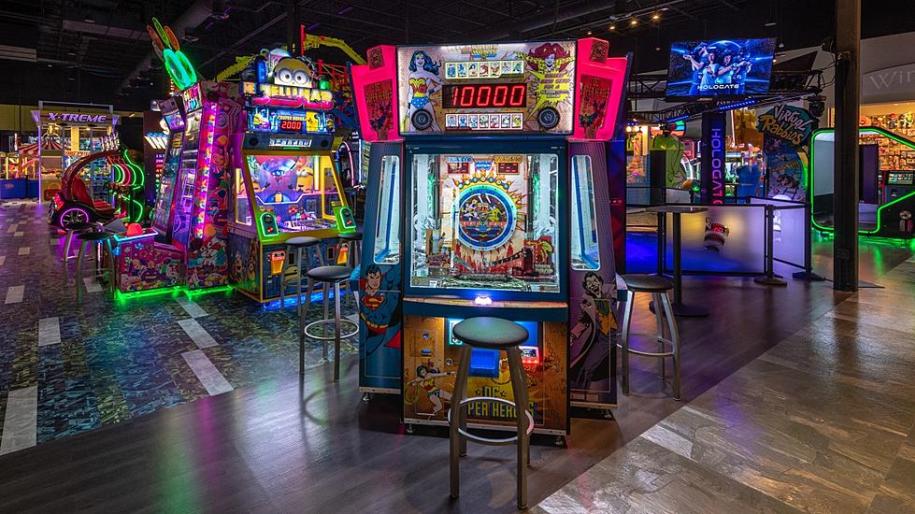 When summer's temperatures tops the thermometer, retreat to Cinergy Amarillo, an all-in-one entertainment destination that you can get lost in. Go for the high score in the cutting-edge arcade loaded with video games, roll for bragging rights in the bowling alley, and find hidden clues and solve puzzles to beat the clock in an escape room. Then conquer a suspended ropes course or show off your aim in the laser tag arena before catching a flick in the movie theater with in-theater drinks and dining, including everything from fried pickles and burgers to salads and pizzas. With something for everyone, Cinergy Amarillo provides an abundance of fun ways to beat the heat.
Planning your next summer adventure? Look no farther than Amarillo, where you can experience some of the best the Panhandle-Plains has to offer during the season. Learn more here.