Mathew "Bones" Hooks was the second African American to live in Amarillo. Due to segregation, Hooks helped establish a subdivision of Amarillo after convincing mayor Lee Bivins to financially support and open North Heights.
North Heights, one of Amarillo's oldest neighborhoods, was founded by Hooks in 1926 and is known for its concentration of thriving African-American-owned businesses today.
In July 1934, Hooks opened the Dogie Club at Pioneer Hall, a building he owned at 1511 NW Adams.  Hooks believed the young black children of the North Heights Addition needed an opportunity to learn and have fun in a supervised environment. Directed by Hooks, the Dogie Club took boys on camping trips, gave them opportunities to play organized sports, and even guided them to plant trees on the property that would one day be renamed Bones Hooks Park.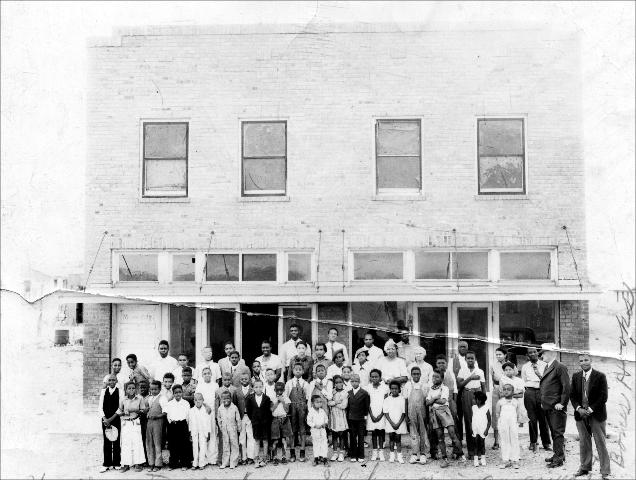 Dogie Club standing in front of Pioneer Hall circa 1927 - Bones Hooks is the man on the far right in this photo
Hooks was also a famed Cowboy who gained popularity by being a black cowboy to work alongside whites as a ranch hand down south. He ran grocery stores and established one of the first black churches in West Texas.  Last year Mathew Bones Hooks was inducted into the Cowboy Hall of Fame.  His award is on display at the Black Historical Cultural Center, 901 North Hayden.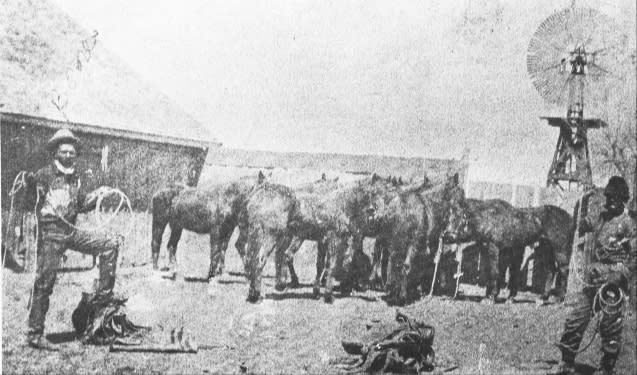 Bones Hooks on a Ranch in 1980 - Bones Hooks is on the left holding a rope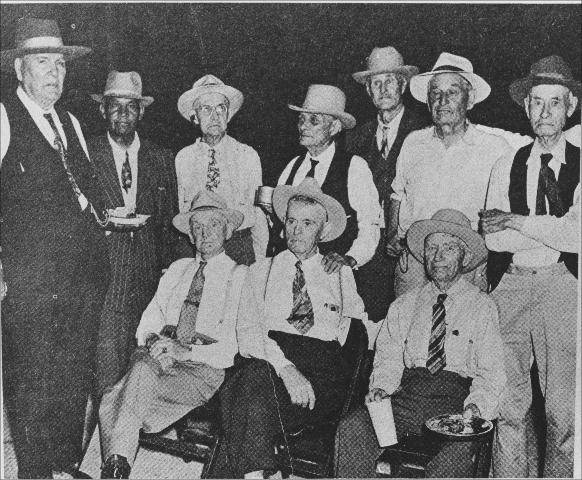 Bones Hooks with Cowboy Friends - Bones Hooks, second from left, stands with a few of the oldest cowboys of the Panhandle of Texas
His work ethic and experience made him a celebrity before he settled in North Heights.  Hooks eventually retired in 1930 from the railroad to become a civic worker in Amarillo and was the first African American to serve on the Potter County Grand Jury.  
He gained additional popularity for his presentation of white flowers to the families of recently deceased pioneers and to other people with worthwhile accomplishments. He sent out over 500 single flowers in his lifetime to war heroes, former presidents, and first lady's.  The white flower also appeared at the dedications of new buildings and churches in Amarillo.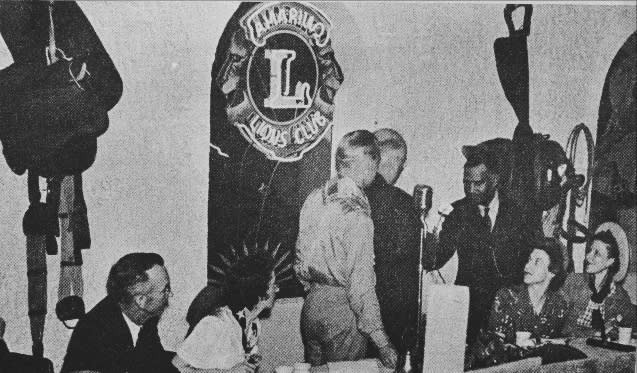 Bones Hooks presents white flower to Lions Club Guest 
Bones Hooks Park is located at 2000 North Hughes and serves as a meeting and celebration spot for many of the community residents today.  Hosting community Easter Egg Hunts or Trunk or Treats, School Supply giveaways, Back to School Haircuts and Braids, and the annual Water Bash and Juneteenth Celebration are just a few of the ways that the Hooks legacy lives on in the park named after this great man.  

This beautiful park features a fully functional stage with electric hookups for shows and entertainment.  It has a splash pad for the kids and plenty of shaded and unshaded areas to encourage the community to get out and be active. It also has basketball courts and a new playground.  

Over the years this park has become a place where residents celebrate life, accomplishments, and come together to address social injustice in our society today.  This park holds so much history and is the core of the North Heights Community.