Amarillo Convention and Visitor Council
1000 S. Polk St. * Amarillo, TX 79101
806-374-1497 * 806-584-6792 (cell)
October 16, 2015
Eric W. Miller * Director of Communications
eric@visitamarillo.com
www.visitamarillo.com
   Today marked the start of a new era in Amarillo's hospitality industry with the groundbreaking ceremony for a public-private partnership to build a 226-room, six-story Embassy Suites hotel located across the street from the Amarillo Civic Center Complex.

   The property is scheduled to open in June of 2017.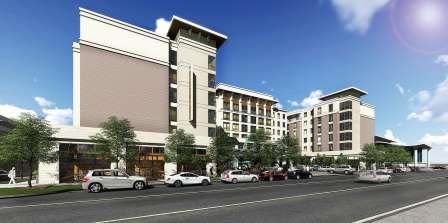 This Embassy Suites features an upscale full-service restaurant and lounge, 18,000 sq. ft. of meeting space, an indoor swimming pool, complimentary cooked-to-order breakfast, spa, and a 24-hour fitness center.

   A 750-space parking garage is expected to be built immediately adjacent by the City of Amarillo.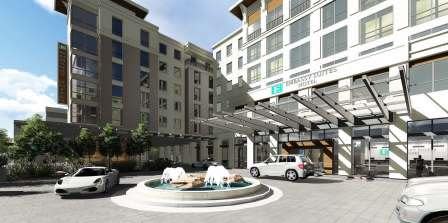 "Lots of people have been working a long time to settle all the details of this project, so we couldn't wait to have the ground breaking. We are eager to see it completed in 2017," Dan Quandt, Vice President of the Amarillo Convention & Visitor Council, said.

   "The Embassy Suites will help the city attract more, and potentially larger, groups to the city, filling more rooms in hotels across town and putting more people in our restaurants, attractions and other businesses," Quandt explains.

   The Amarillo Civic Center Complex features over 410,000 square feet of space. It includes a 4,800-seat coliseum, a world-class performing arts venue, a 2,700-seat auditorium and two large exhibit halls, not to mention numerous breakout rooms. Clients using the Amarillo Civic Center Complex routinely praise both the facility and the professional staff.

   The private partner for this project is NewcrestImage, a Dallas-based hotel development and construction firm. NewcrestImage owns and operates the Courtyard by Marriott in Amarillo's historic Fisk Building. NewcrestImage operates 16 hotels, with an additional 12 properties under construction or in development.

   "Success is a team sport, and this project features an exceptional team of individuals from government and from the private sector who are collaborating closely to translate an idea into a reality," Mehul Patel, Chairman of NewcrestImage, said.

   Public partners for this project include the City of Amarillo, the Amarillo Local Government Corporation and the Tax Increment Reinvestment Zone (TIRZ).
Other private partners include Panhandle Development, an investment firm based in the Amarillo area, SouthWest Bank, primary lender for the project and Virginia-based Hilton Hotels Corporation, which franchises the Embassy Suites brand.
Visit the Amarillo CVC website at www.visitamarillo.com