The Amarillo Convention & Visitors Bureau, in partnership with it's online content consultant Madden Media, has won two major digital content recognitions in the past week.
On August 24th, at the annual U.S. Travel Association's ESTO (Educational Seminar for Tourism Organizations) meeting in Portland, OR, the Amarillo CVC won a 2015 Destination Council Destiny Award for Digital Campaigns based on the article Man vs. Steak- a humorous, first-person account of one man's attempt to eat the 72 oz. steak at the Big Texas Steak Ranch.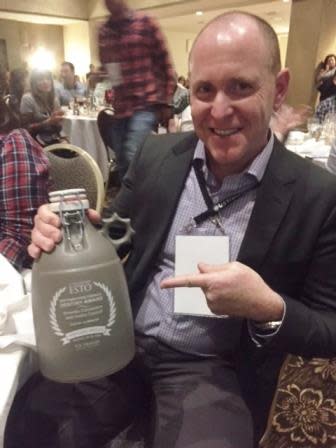 (Brad Smyth, Tourism Director at the Office of the Governor, Economic Development & Tourism, holding Amarillo's ESTO Award)

Posted to the Amarillo web site earlier in 2015, the story has been marketed around the world with millions of impressions and an average time on the page of over 28 minutes. You can find the Man vs. Steak story on the Amarillo CVC web site at https://www.visitamarillo.com/articles/view/man-versus-steak/825/. The writer, Danny Lee, is no relation to the Big Texan co-owner.
The same Man vs. Steak story was a finalist for a 2015 Content Marketing Award in the category of Best Feature Design-Print or Digital. That award is given by the Content Marketing Institute. The ultimate winner of the 2015 award was Southwest Airlines.

(Dan Quandt, CVC VP, & Daryl Whitworth, Madden Media Account Executive)
"Our bottom line is engaging digital visitors with items of interest that will convert them to visitors in the not too distant future. We think this Man vs. Steak story, together with Madden Media's expertise to locate interested readers, is a great example of giving Amarillo a top digital presence," says Dan Quandt, vice president of the Amarillo Convention & Visitors Bureau. "We are deeply honored by this national recognition."

#####
The Amarillo CVC mission is to positively impact the economy and image of Amarillo through destination marketing and related support programs.
Visit the Amarillo CVC website at www.visitamarillo.com