5 Reasons to Visit Amarillo on Your Next Ski Trip
This is the moment you've been waiting for. After dreaming of gentle slopes covered in fine white snow all year, ski season is finally here. You've packed your gear, filled up your gas tank, and are ready to hit the road on the way to the mountains of Colorado and New Mexico. Situated midway between you and the powdery slopes, Amarillo is just the place to stop along the way.
Not only are some of our hotels offering special discounts and rates just for skiers like you, but there are many ways you can enjoy the finer things in life even if you're just passing through. Stay with us and come back later to discover everything else that is authentically Amarillo. Read on to see why you should visit us on your next ski trip.  
Stay & Save at Ski Amarillo Hotels
If you're cruising across the great big state of Texas, you'll need somewhere to kick your feet up for the night. Amarillo is just the place to do that as our many hotels serve up comfortable stays for any budget. Yet we've sweetened the deal for you during this ski season. Rest up at one of more than 20 participating hotels and you'll save on your booking when you ask for the special Ski Amarillo rate. On your way to Taos? You'll get another special discount for your Ski Taos experience when you stay in a Ski Amarillo hotel. Spend the night with us and you'll leave with a bit more cash in your wallet for when you hit the slopes.

Palo Duro Canyon is a Stone's Throw Away
Stark sandstone cliffs slope into rugged valleys blanketed by juniper and mesquite trees as the setting sun paints the land stunning shades of red and orange. There's nowhere in Texas like Palo Duro Canyon, the second largest canyon in the United States located just 25 miles south of downtown Amarillo. This natural wonderland is a bucket-list worthy destination that you'll want to set some time aside to explore. Take in spectacular rock formations and admire four geologic layers in the cliffs as you traverse 30 miles of hiking and biking trails that meander onto peaks and descend 500 feet to the canyon floor. Breathe in the fresh air, take some photos, and stretch your legs before hitting the road again. Just make sure to come back someday, as there's always something new to discover at the Grand Canyon of Texas.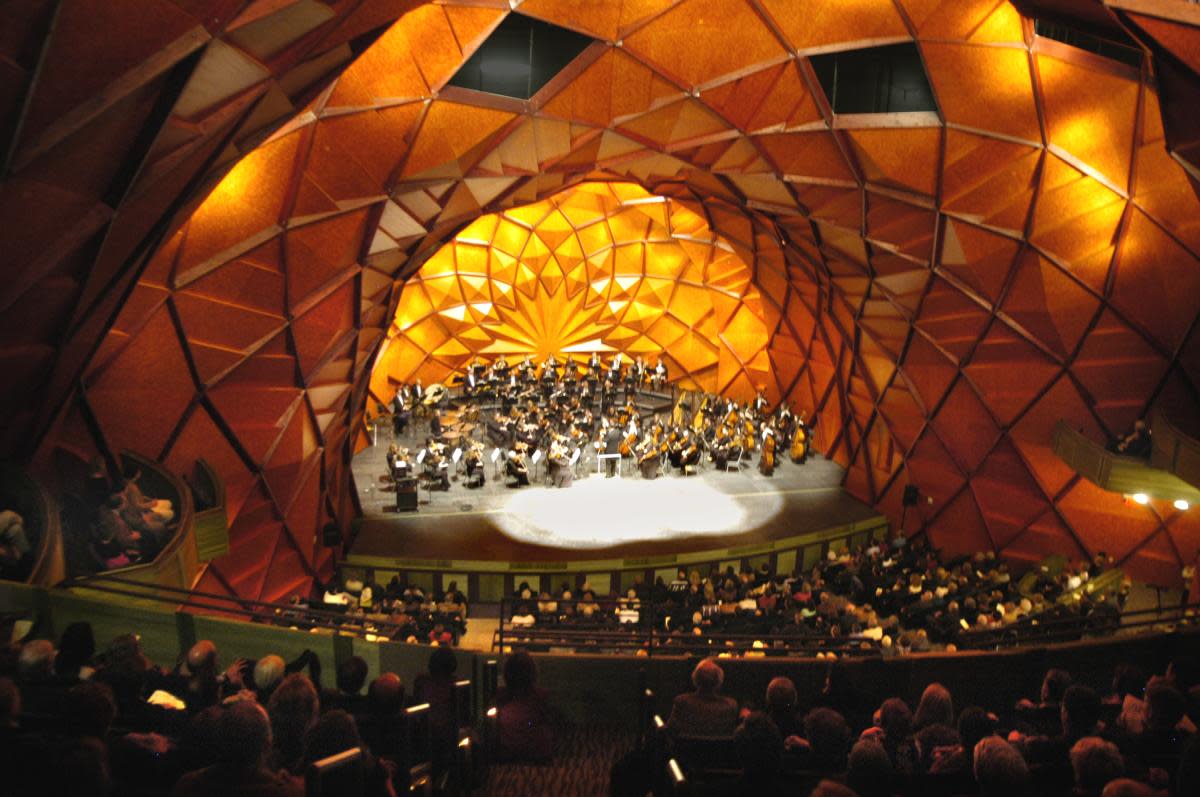 Amarillo's Eclectic Arts Scene Holds Many Surprises
To see our talented local actors light up the stage, catch a show at the Amarillo Little Theatre, one of the oldest continuously operating community theaters in the country. If you're looking for a sophisticated night out on the town, the gorgeous Globe-News Center for the Performing Arts is the place to be. The perfectly tuned venue hosts performances by the Amarillo Symphony, Amarillo Opera and the Lone Star Ballet, so you can add a little Gershwin or Mozart to your ski trip. Check out this calendar of upcoming shows and get your tickets here. 

Local Restaurants Serve Delicious Food
Texas-sized steaks, bursting burritos, and succulent seafood are all on the menu here in Amarillo, so make sure to pack your appetite. Our local restaurants serve up foods from around the world, only we tend to do things bigger and better than just about anywhere else. For you ultra-hungry folks out there, take on the famous 72 oz. steak challenge at the Big Texan Steak Ranch. As seen on popular TV shows like Man v. Food, the contest's rules are simple: you have one hour to eat the steak and sides. Clean your plate and you can add your name to the Hall of Fame list. Fail and you'll have to pay $72 for the meal, but you can still take the leftovers home with you. Not quite that hungry? The Big Texan Steak Ranch also offers smaller cuts of steak, as well as sandwiches and seafood dishes that you can pair with one of 12 beers brewed on site.
As delicious as the steaks are, you'll find much more to sink your teeth into here. Indulge in New Mexican-style enchiladas, fajitas, and tacos with hand-made margaritas at Tacos Garcia, a local take on a family-owned chain of restaurants spread throughout the state. For a more upscale dining experience, head to Off the Hook Seafood. From its spot on the second floor of the F.W. Woolworth Building in downtown Amarillo, the restaurant serves Georgia Wild Shrimp, fish from the Atlantic coast, and a tantalizing selection of wines from Texas and beyond. Raise your glass to a great meal, then head downstairs to spend the rest of your night out enjoying live music at the Esquire Jazz Club.
There Are Many Ways to Enjoy a Night Out
Sometimes, the best cure for a long drive is a fun night out on the town. Fortunately, we have numerous spots where you'll want to order a drink and unwind. Enjoy a stellar view of downtown Amarillo and your choice of craft beer at Six Car Brew Pub, which brews up everything from a citrusy New England IPA to an oatmeal stout with notes of oatmeal cookies and milk chocolate. Find a cozy spot and savor a specialty martini at Butler's Martini Bar, where the exposed brick walls and wooden floors make it look like a stylish speakeasy from a bygone era. Savor something from the long list of wines available at Crush, which also has craft beer on tap, paninis and sandwiches, salads, and mouthwatering desserts.
Of course, that's not all. Indulge in high-end dining and delicious cocktails at O.H.M.S Cafe & Bar. Whether you're looking for a low-key end to a full day of driving or something livelier, you'll find more than you expected here. For a night out with your entire family, giddy on up to the world famous Big Texan Steak Ranch. Besides being one of the best steakhouses in Texas, the Big Texan brews an impressive set of beer, including a double IPA, a pecan porter, and a whiskey barrel stout.
With discounted rates on hotels and all the ways you can unwind after a long day on the road, Amarillo is a great stopping point en route to your ski getaway. You may not be here for long, but you'll leave wanting more. Plan your visit here.