Hoodoo Ticket Hunt
Hoodoo Mural Festival is near! Each year muralists from around the country contribute new murals to downtown Amarillo as part of an urban beautification project. Once the murals are complete there's a huge celebration in downtown Amarillo featuring big-name music artists. Click here to see this year's line-up.
In celebration, the Amarillo Convention & Visitors Bureau is giving away tickets to the festival, but there's a twist. You're going on a scavenger hunt!
Hunt #1 - 2 GA Tickets
Hunt #2 - 2 VIP Tickets (CURRENTLY SOLD OUT - this is your last chance to get VIP tickets)
How it Works
The Hoodoo Ticket Hunt is a journey across our social media platforms (Instagram and Facebook) to follow the clues to the Hoodoo hidden around the new Downtown Amarillo.
Turn on your social media notifications and get ready for a good ole scavenger hunt!
Beginning at 5 p.m. on Friday, September 22, 2023, we will release hints about tickets hidden around downtown Amarillo. All clues will be posted on our Instagram.
We'll drop the hints, you do hunting. Look for the ticket and scan the QR code on the back for redemption directions once you've found it. There will be a total of 3 hiding spots so that means 3 winners!
THE PERSON REDEEMING THE PRIZE MUST FILL OUT THE FORM / LIMIT ONE PER HOUSEHOLD
Click here for the official Hoodoo Mural Festival Scavenger Hunt Giveaway Rules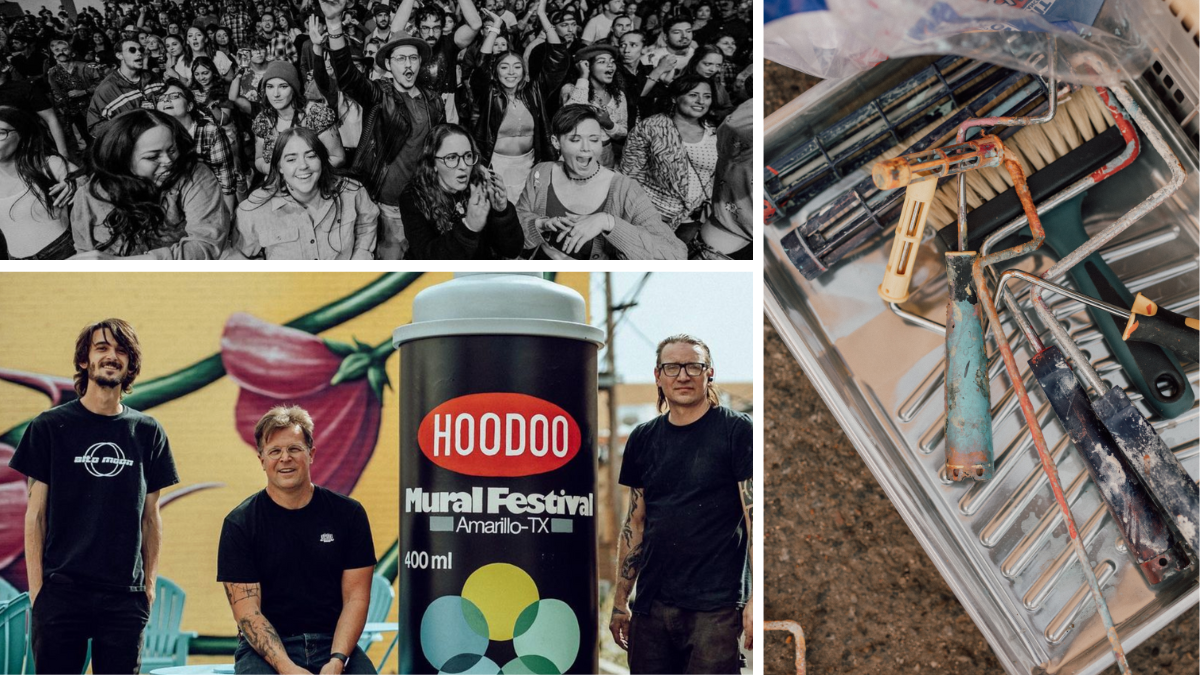 ELIGIBLITY: NO PURCHASE NECESSARY, NO ONLINE ENTRY NOR ONLINE SUBSCRIPTION NECESSARY TO ENTER OR WIN. DRAWING; The Hoodoo Mural Festival Scavenger Hunt Giveaway (the "Giveaway") is only open to entrants who, are present in Amarillo, September 22-29, 2023, who are at least eighteen (18) years old or have parental consent to participate in the scavenger hunt. Employees of ACVB or Hoodoo Mural Festival and the immediate families (defined as parents, spouses, children, siblings, grandparents, and their respective spouses) or members of the same household (whether related or not) of each such employee, are not eligible to win a prize.
AGREEMENT TO OFFICIAL RULES AND DECISIONS. By participating in the Giveaway, each entrant fully and unconditionally agrees to be bound by and accepts these Official Rules and the decisions of the ACVB (including, without limitation, decisions regarding eligibility of entries, the selection of entrants and the winner, and the awarding of the prize), which are final and binding in all respects.
TIMING. The Giveaway entry period begins at approximately 5:45 p.m. CT, 9/22/23 when the clues are posted on ACVB'S social media. The giveaway will close when all prizes have been found and claimed.
PRIZE. Subject to the terms and conditions of these Official Rules, two (2) prizes will be awarded in this Giveaway. The following two (2) Prizes will be awarded to the participants that locate the prize based on the provided clue(s): Prize #1 - 2 GA Hoodoo Mural Festival Tickets, Prize #2 - 2 VIP Hoodoo Mural Festival Tickets
ODDS; NOTIFICATION. On 9/22/2023, The ACVB will randomly hide three (2) prizes around downtown Amarillo to be found by potential winners. The odds of winning are completely dependent on (i)how many people participate in the scavenger hunt, and (ii) the participant's ability to follow clues. The entrant that finds a prize must comply with all terms and conditions of these Official Rules and winning is contingent upon fulfilling all requirements. The potential winners will secure their prize upon finding it and attending one and redeem it at the Amarillo CVB Front desk on the second floor at 1000 S. Polk St. or onsite if applicable. The potential winner will be required to supply basic personal information in order to claim their prize. If the potential winner cannot be contacted within seventy-two (72) hours of the first attempt to contact them, another prize will be hidden and the original winner will be disqualified.