From the crack of a home run to seeing lions and tigers for the first time, these are the kinds of experiences that your kids will remember. When you're looking for your next getaway with your family, head to Amarillo. Located along historic Route 66 in the heart of the Texas Panhandle-Plains, Amarillo is full of amazing things that will inspire and entertain your kids. Read on to see how you can create new family memories in Amarillo, then learn more about this West Texas destination here.



ROOT FOR THE HOME TEAM
Get your cracker jacks, find your seats in a beautiful state-of-the-art stadium, and watch the future stars of the big leagues right here in Amarillo. Introduce your kids to the joys of baseball at an Amarillo Sod Poodles game. There are no bad seats in the house at Hodgetown, the downtown home of the Sod Poodles, the Double-A affiliate of the San Diego Padres. Get something from one of the many concessions stands and settle into your Australian-made seats designed specifically for your comfort. Then watch up-and-coming players as you share an evening out with your family.
The regular season runs through early September and includes 70 home games. Not only is the baseball great, but a day at the ballpark is affordable. Tickets range from $6 lawn seating to $16 behind home plate. See a full schedule and get your tickets here.
 
SOAR HIGH ABOVE PALO DURO CANYON
With its rugged canyons and stark beauty, Palo Duro Canyon is a Texas treasure. While there are many ways to explore it, there's nothing quite like seeing it from above. If your kids are looking for some high-flying adventure that you won't find anywhere else, head to Palo Duro Canyon Zipline Adventure Park, home to the only zip lines between Dallas and New Mexico. Take in a view like no other as you glide along two 880-foot-long zip lines over rock formations and tree-blanketed valleys. Riders must be 65 pounds to go solo, but you can ride tandem if your kids weigh less than that.
For the most in-depth adventure, go on the Canyon Crossing excursion that includes a Jeep tour, zip line rides, and a trek on a 300-foot-long bridge across the canyon.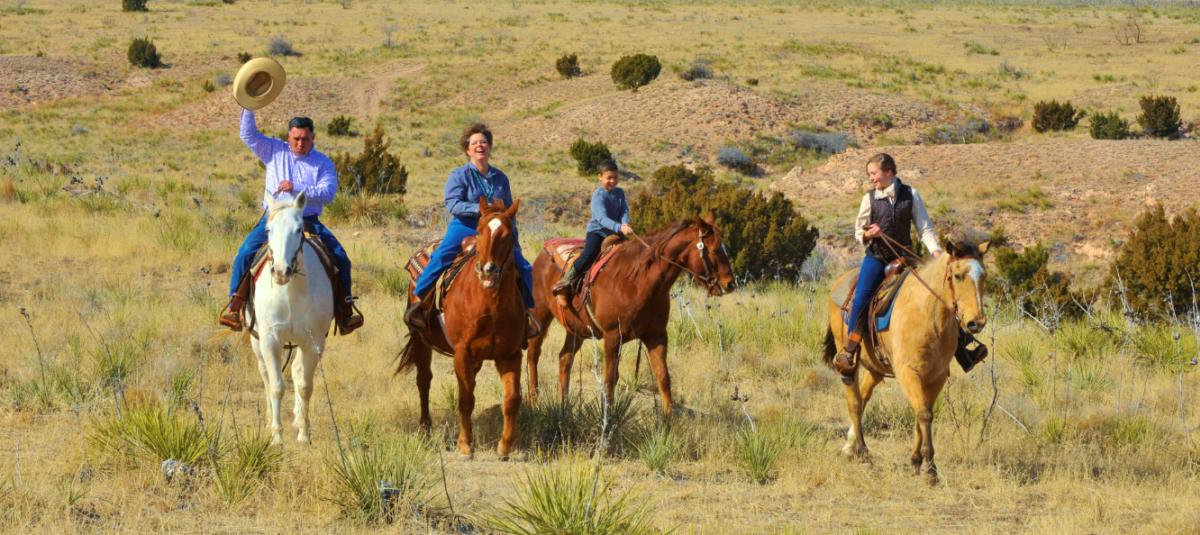 FEEL LIKE A COWBOY
Feel the freedom of the open trail and breathe in all the fresh air as you meander along well-worn paths through canyons towering rock formations. This is just a taste of the cowboy life, and it's all there for you to enjoy in Palo Duro Canyon. Choose from one of three horseback riding tours, each offering their own adventures.
Ride among the oldest and largest cottonwood trees in the Panhandle on the 90-minute rides with Palo Duro Riding Stables. Admire the colorful layers of rock walls that reveal 230 million years of geological history and spy mule deer, wild turkeys, and other wildlife on Old West Stables' tour. For a view of it all, ride the rim of the canyon on Cowgirls and Cowboys in the West's one-, two- and three-hour rides.
Wannabe cowpokes of all ages and experience levels are welcome on these rides, so grab your cowboy hats and giddy up for a West Texas adventure that everyone in your family will love.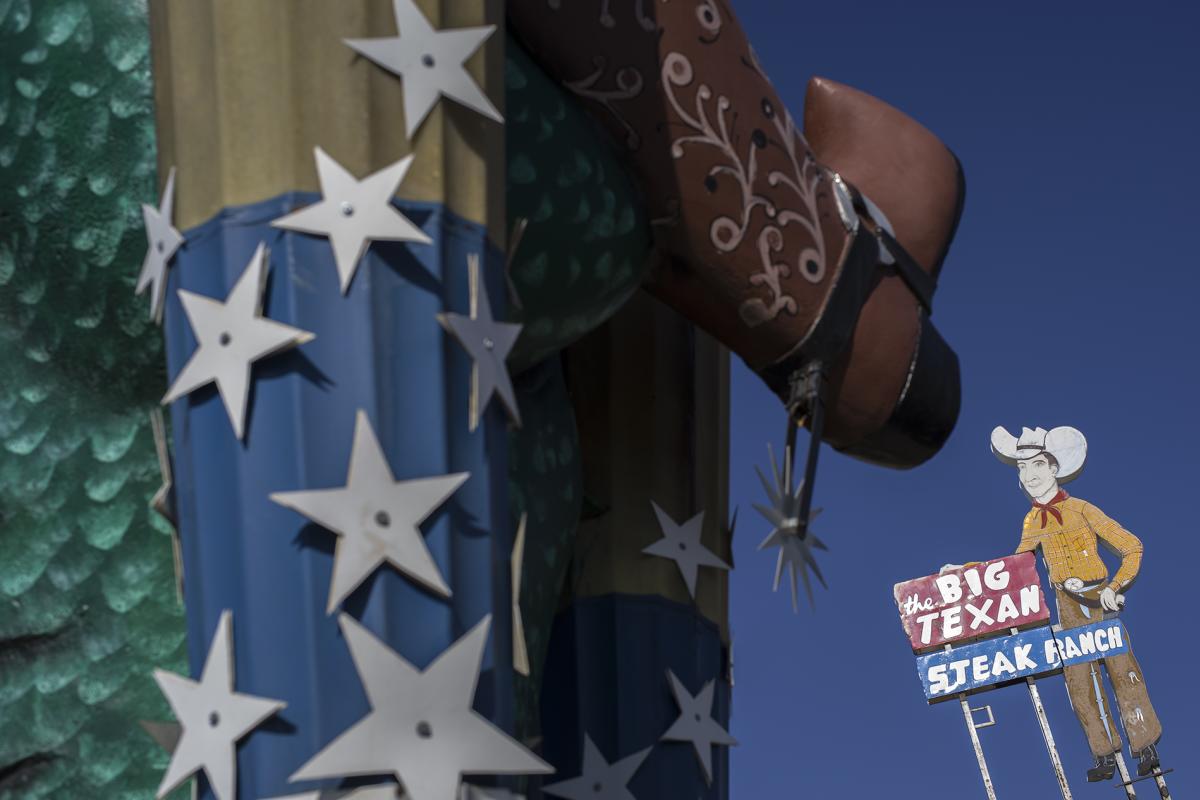 GET THE FULL BIG TEXAN EXPERIENCE
The Big Texan Steak Ranch's 72 oz. challenge has put this roadside slice of Americana on the map, but it's not the only reason to stop in. Get your fill from the restaurant's long menu of steak and seafood dishes while your kids play Western-themed games in the arcade. Don't leave without a visit to the gift shop, where you'll come face to face with a live rattlesnake as you're browsing for souvenirs. To get the most out of your Big Texan experience, hang your hat at the Big Texan Motel. You'll love the comfortable rooms with spacious beds and Jacuzzi tubs (select units only), while your kids will probably want to spend all day at the Texas-shaped swimming pool.
Located just one mile down I-40, Starlight Ranch is a destination all its own. Follow behind your kids as they wander through a sprawling maze, get in a friendly game on the mini golf course and watch them soar on the zip lines. Stop for some food and a drink at the bar and dining area and hang out for a concert on the Main Stage. Starlight Ranch is open on Thursday, Friday, and Saturday evenings from May through September.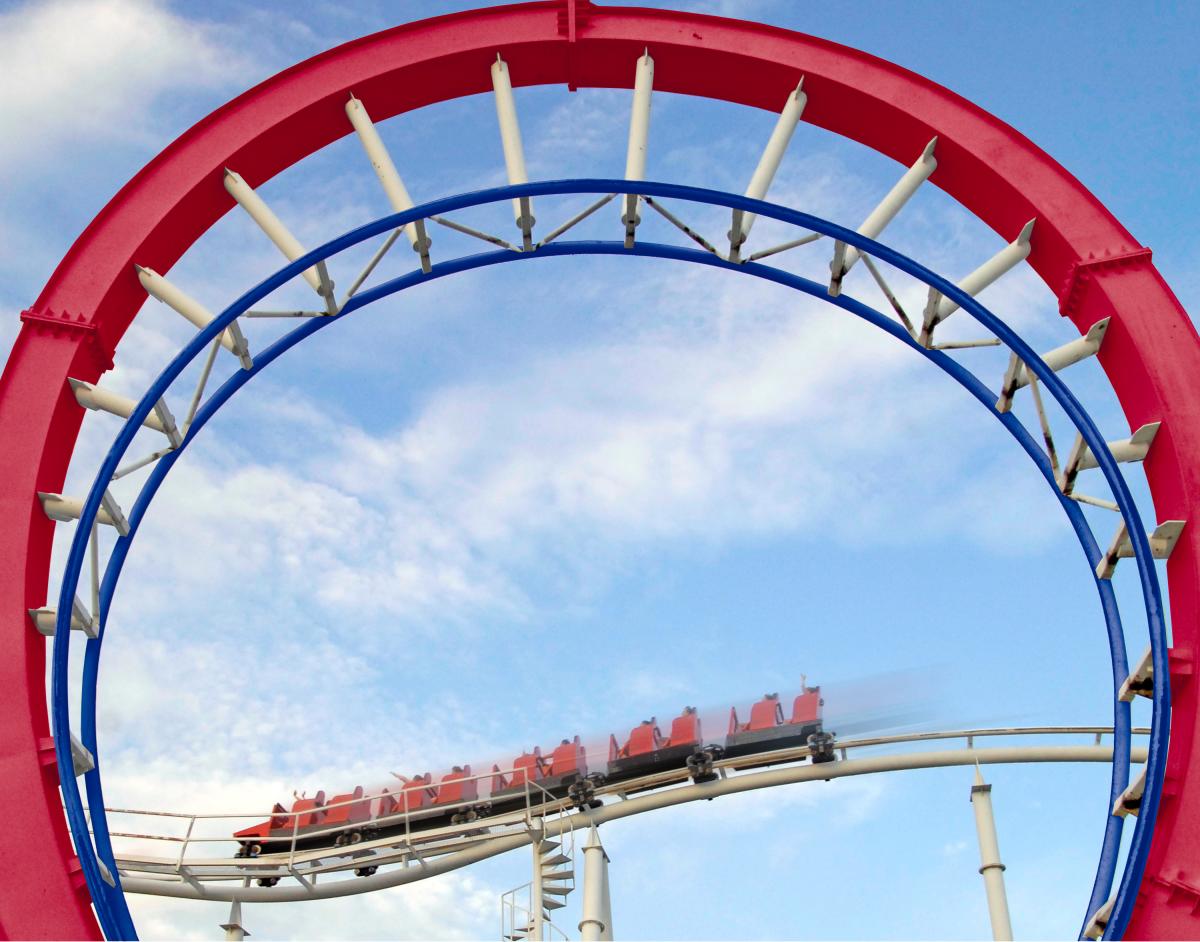 ENJOY THRILLS, SPILLS & FAMILY FUN
Feel a rush of adrenaline as you zoom along the twists and turns of a roller coaster. Take in the view atop a leisurely rotating Ferris Wheel. Beat the heat on exhilarating water slides and rides. Thrill seekers of all ages will find something that captures their imaginations at Wonderland Amusement Park. Savor heart-pounding action on all the rides, then take a break behind the wheel of a bumper car, on the miniature golf course or in the arcade. There are even rides for kids and families, including the Frog Hopper (a miniature drop tower), a Merry-Go-Round and a train that rolls through the park.
There are delights around every corner at Wonderland Amusement Park, so get here as early as you can to give you and your family all day to play. The park is open on weekends and various weekdays from early April through Early September, and tickets are available on Wonderland's website.  
DISCOVER, LEARN & PLAY
Although anyone can learn a thing or two by opening a textbook, it's way more fun to get your hands dirty. That's exactly what you and youngsters can do at the Don Harrington Discovery Center. Boasting 8,000 square feet of interactive exhibits, the center offers exciting lessons in astronomy, natural history, physics and more. Let your younger kids move blocks and climb in the KinderStudio and make some new furry and scaly friends at Critter Row. There are seasonal and temporary exhibits to explore as well. Play giant-sized versions of Jenga, soccer billiards and chess at Physics @ Play and let your kids build and create—while learning the concepts of force, inertia and gravity—in Imagination Playground.
The Don Harrington Discovery Center brings to life the forces that shape our world in concrete ways that everyone can learn from. Visit and you may leave with future scientists in the family.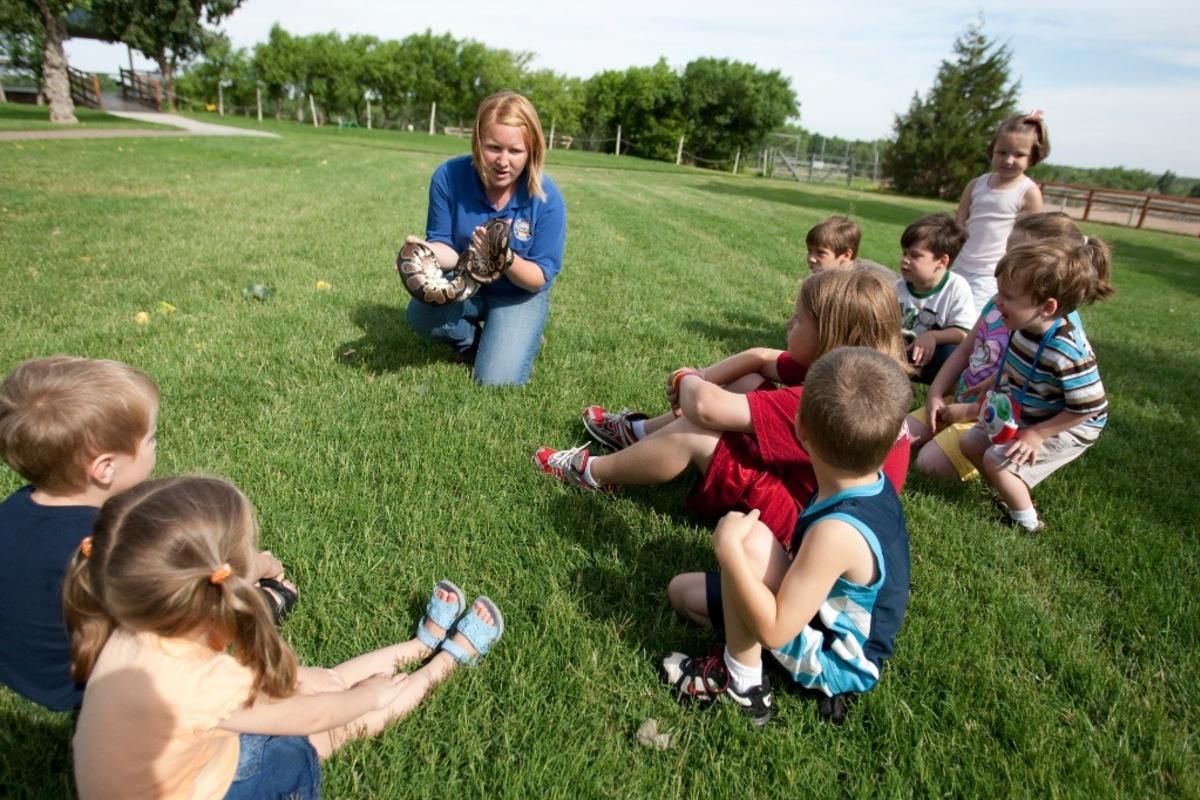 MEET THE ANIMALS OF THE AMARILLO ZOO
From black-handed spider monkeys and fire salamanders to African lions and green-winged macaws. It's not every day you can see these majestic creatures; unless you're at the Amarillo Zoo, of course. Take your kids on a journey of discovery as they encounter more than 150 animals representing 80 species from around the world. Critters large and small are at home at the zoo, and each of their enclosures have display stands so that everyone can learn about them.  
To get the most out of your visit, bring a pair of binoculars. Not only will your kids get the best possible view of the animals, they'll feel like they're on their very own safari. How can you beat that?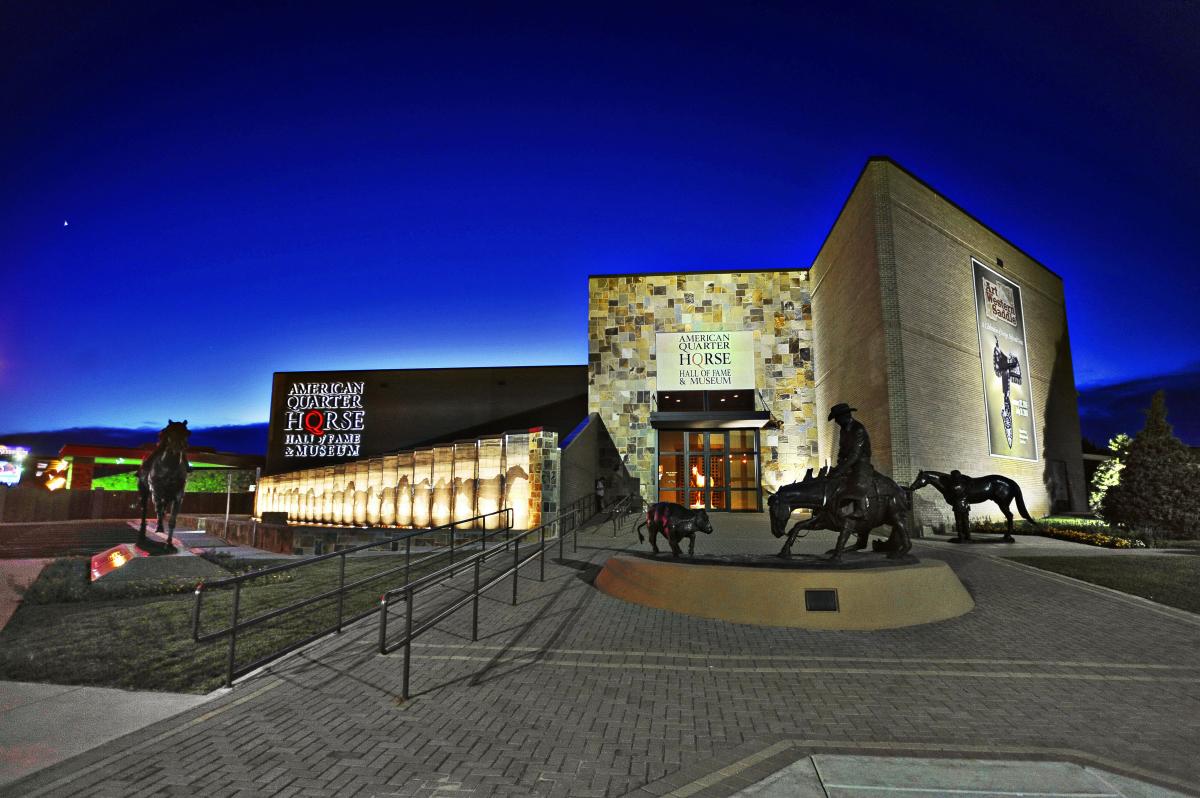 GET TO KNOW THE WORLD'S
MOST POPULAR HORSE
The image of the frontier ranging cowboy is an iconic part of the American imagination, but the West may never have been won without the American quarter horse. One of the oldest breeds in the United States, the short, stocky and good-natured horse played a key role in the settlement of the Southwest. Get to know America's horse at the American Quarter Horse Hall of Fame & Museum. Say 'howdy' to the larger-than-life bronze statues of history-making horses in front of the museum, then step inside to learn the history of the American quarter horse from the 17th century to the present day. Admire the paintings and other works in the America's Horse in Art gallery and get to know the people and horses that have made the breed what it is today.
With its informative and kid-friendly exhibits, the American Quarter Horse Hall of Fame & Museum has just as much to offer horse lovers as it does history enthusiasts.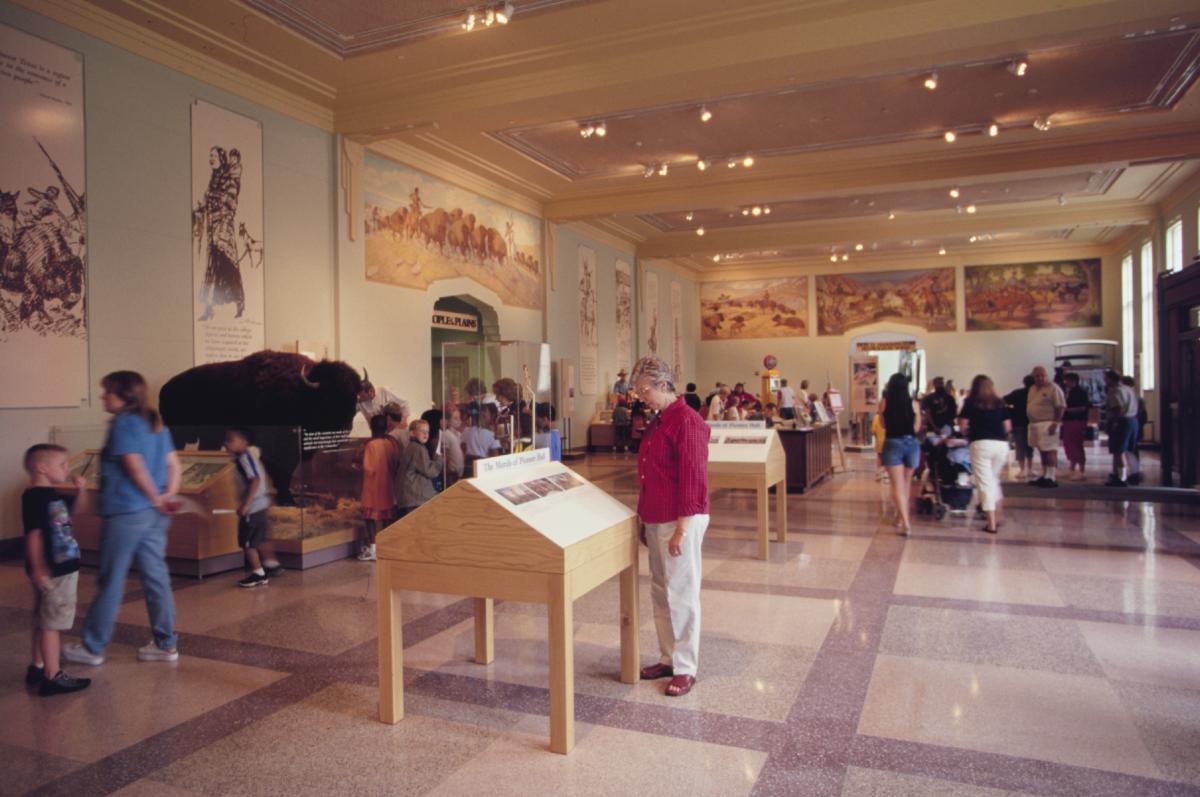 EXPLORE THE HISTORY OF
THE PANHANDLE PLAINS
Step back in time, discover the many peoples and cultures of the Panhandle Plains and get a close look at historic pistols, rifles and arrowheads. Relive the tall tales of this corner of the Lone Star State at the Panhandle-Plains Historical Museum. See what life was like on the frontier as you wander through an adobe casita, play poker in a saloon and tap out a telegraph at the train depot in Pioneer Town. Then wander through 14,000 years of history, a journey that includes close-up looks at vintage automobiles, windmills, fossils and more than 8,000 works of Southwestern art.
Through its variety of exhibits, the Panhandle-Plains Historical Museum provides an immersive glance at the past while broadening perspectives and inspiring further learning.
VISIT ONE OF TEXAS' WACKIEST
ROADSIDE ATTRACTIONS
Both a public art installation and a roadside eye catcher, there's nothing quite like Cadillac Ranch. Consisting of 10 vintage cars stuck nose first in a flat patch of farmland just west of town, this one-of-a-kind attraction is more than a must see. Whereas you're not allowed to make your mark on any other work of art, here it's encouraged! Bring a can of spray paint and let your kids show off their creativity in an environment without any rules, all while contributing to an ever-evolving artwork that has stood the test of time. 
Whether it's zip lining over Palo Duro Canyon, riding horseback on scenic trails or watching minor league baseball in a state-of-the-art stadium, Amarillo is full of unforgettable adventures your kids will love. Plan your next family-friendly getaway here.