5 Ways to Enjoy an Amazing Escape to Amarillo
Wide-open plains under deep-blue skies. Rugged footpaths that descend into red-walled canyons. The tantalizing feeling of freedom you can only get when you're alone in the outdoors. If you're a wanderlusting traveler who aches for an escape after being locked up in your home, find your way to Amarillo. Located just a day trip away from Dallas, Lubbock, and Oklahoma City, the heart of the Texas Panhandle Plains is full of amazing things to see and do set on stunning landscapes that make it easy to keep your distance. We all need a break. Find yours in The Yellow Rose of Texas.
Travel Tip: For the latest in what's open in Amarillo, click here to get all the information you need.
Discover Amarillo's Spectacular Outdoor Art
Who says you need to step into an art gallery or a museum to see some world-class art? Here in Amarillo, we show off some of our most interesting works under our glorious West Texas sky. Start your exploration of the arts at Cadillac Ranch, one of Texas' most well-known roadside attractions. Cruise by on I-40 west of town and you'll spy a row of 10 vintage Cadillacs buried front first. Each is covered with an endless array of colors left by previous visitors, as the cars here form a permanent, and yet still evolving, work of art. Bring a fresh can of spray paint to leave your own mark.
For more artistic oddities, travel south on I-27 and you'll soon see a pair of legs jutting from the ground. These make up Ozymandias on the Plains, a statue inspired by poet Percy Shelly's recounting of a visit to the ruins of a statue of Ramesses II upon which this was written: My name is Ozymandias, King of Kings, Look on my works, ye mighty, and despair!" Pause to snap a photo and take it all in, then head out to your next adventure in the Panhandle-Plains. 
Explore the Second Largest Canyon in the Country  
Covering roughly 120 square miles of breathtaking canyon walls and remarkable rock formations, there's no better place to keep your distance in Texas than Palo Duro Canyon. Pack your hiking shoes (and something to carry plenty of water) and head out to Palo Duro Canyon State Park, a 28,000-acre marvel that offers endless space to discover. Set out on more than 30 miles of trails that take you into the canyon's depths and along its walls adorned with layers of sandstone and veins of white satin-spar gypsum. Follow the Rylander Fortress Cliff trail to get an overhead view of the canyon from its rim or traverse the 4.4-mile Lower Comanche path and you'll pass spring-fed streams and Rocky Mountain juniper trees. With so much ground to cover, exploring the park's trails is the ultimate way to practice social distancing.
For you high-flying adrenaline junkies out there, get ready to fly at Palo Duro Canyon Zipline Adventure Park. Reserve your spot on the Tower Zip Round Trip and you'll climb one of the largest "multi-event" towers in the state before soaring 800 feet over the canyon before turning around and zip-lining back. If your speed doesn't leave you breathless, the view certainly will


Breathe in the Fresh Air of the Texas Panhandle
While Palo Duro Canyon State Park has plenty to explore, it's not the only place where you can get outdoors. Immerse yourself in the tranquility of the plains as you hike the six miles of trails at the Wildcat Bluff Nature Center, such as the recently opened Gnarly Mesquite Trail that takes you through a meadow next to West Amarillo Creek to an enormous cottonwood tree.
To take a trip to the past, drive about 40 minutes north to the Alibates Flint Quarries National Monument. This picturesque stretch of rolling grasslands and sandstone bluffs is home to a variety of colorful flint mammoth hunters used 13,000 years ago. See how the ancient peoples lived and raised crops in the High Plains as you stroll through the Alibates Interpretive Garden, then wander along the pathways in McBride Canyon and the Mullinaw Trails area. Bring your gear and get lost in the beauty of the Panhandle-Plains.
Ride Horseback on Scenic Trails 
If you've ever dreamed of living the cowboy life, climb into the saddle on a guided horseback riding tour with Cowgirls & Cowboys in the West. Meet your new equestrian friend and depart from the Los Cedros Ranch on the rim of Palo Duro Canyon. Saunter along well-worn pathways as you enjoy incredible views of the canyon and the area's diverse array of landscapes. There are four different excursions for you to choose from, from a one-hour adventure best for families, to a three-hour journey that affords a true taste of the West. Visit Cowgirls & Cowboys in the West's website to book your tour today.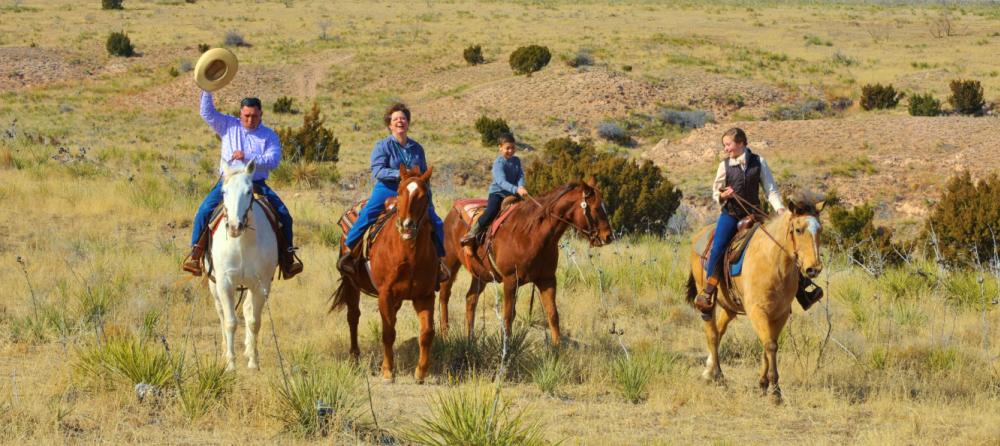 Savor Locally Made Mead & Outdoor Entertainment
You might be trying to keep your distance, but that doesn't mean you can't enjoy some of the finer things in life in Amarillo. Find a spot on the outdoor patio at Honey Buzz Winery to sip on a range of delicious meads made right here in the Yellow Rose of Texas. Choose from honey wines made with lemon, cherry, orange and grapefruit, and hibiscus and hops and pair your drink with a pretzel plate or a cheese tray. When a glass of cabernet sauvignon or chenin blanc is what you're craving, stop by Bar Z Winery, makers of award-winning reds and whites made with grapes from the High Plains AVA.
Looking to catch some of the best musicians around? Head to the Starlight Ranch Event Center, one of Amarillo's top music venues. To accommodate the current circumstances, Starlight Ranch is selling tables of six instead of individual tickets, and food and drinks are easily available to you. This way, you can kick back and enjoy the show without having to worry about getting too close. Finally, there may be no greater expression of social distancing than catching the latest and greatest films at a drive-in theater. To do just that, cruise on over to the Tascosa Drive-In Theater, where you'll enjoy a throwback experience while taking in a movie from the comfort of your own car. It doesn't get any better than that, if you ask us.
With its remarkable canyon and abundance of ways to enjoy the outdoors, Amarillo is just the place you need to go to practice social distancing, Texas-style. Plan your visit here.